Kilmarnock: Michael Johnston must go, says Kenny Shiels
Last updated on .From the section Kilmarnock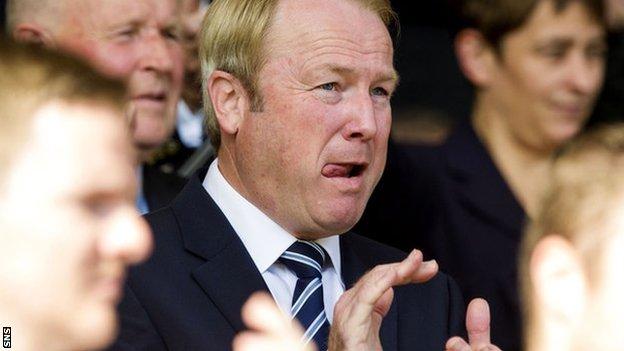 Kilmarnock chairman Michael Johnston must leave the club or risk them being relegated from the Premiership, says former team manager Kenny Shiels.
Supporter unrest against Johnston has increased since he sacked Shiels in June and present manager Allan Johnson's side now sit second bottom.
"I think there has to be a negative energy taken away from the club to help it to progress," said Shiels.
"And, unfortunately for Michael, he's probably the negative energy."
a group of local business people and supporters interested in buying the club.
And there were further calls from fans for the chairman to stand down after
"If there's no Michael there, who are the supporters going to have negativity towards?" Shiels told BBC Scotland.
"I think it would give Allan a bit of respite and help the team to progress on the pitch."
Shiels believes the chairman should look at the example of Pat Fenlon, who recently left his post managerial post at Hibernian.
"There was total apathy about the place and I thought what Pat Fenlon done has been the most dignified act of anybody this season," he said.
"He went to the chairman and said 'look, they want rid of me, its affecting the performances'. I believe Pat went in a dignified manner, he'd had enough and he said, for the betterment of the club, I have to leave.
"I think Michael's in the same position at Kilmarnock. Everybody's against Michael Johnston and I don't know why Michael puts up with it to be honest.
"Could you imagine being in his position, not really from a football background, lovely wife at home, all of those things and how does he take all of that?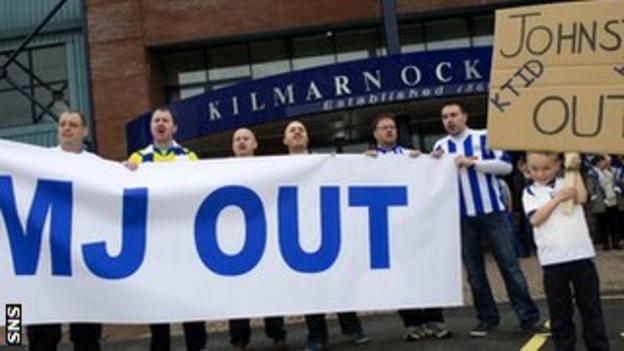 "Why does he not just say, 'I've had enough of this, I'll go'? And, for the benefit of the club, I think that's maybe what has to happen.
"That's not me blaming anyone and I'm not being critical of Michael. It's just the way it is at the moment."
Shiels described being sacked by Johnston as "like the dentist pulling the wrong tooth" and believes the present Kilmarnock side is capable of avoid relegation.
"They've got a fantastic manager with a great future and I feel sorry for Allan the way things have been going," he said.
"But I think Kilmarnock need a new dynamic within the team, within the club, within the whole ambience of the environment to make them better.
"I think the players are there, but we've got to take that cloud away and make it happen.
"I think they're better than three or four of the other teams in that part of the league and I think they will get out.
"But, if that apathy lingers, they'll be in trouble."