2013: The year Adam Scott became a superstar

By Iain Carter
BBC golf correspondent
Last updated on .From the section Golf30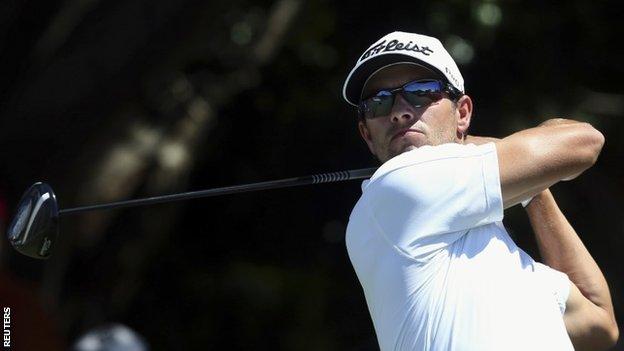 Rory McIlroy's win at the Australian Open was hugely welcome but there was little surprise that the Northern Irishman felt a tinge of guilt at denying Adam Scott.
Had the Masters champion converted his four-stroke lead into victory at his home Open, it would have been the most fitting way for the year to finish.
If you are looking for the global golfer of the year you probably should look no further than Scott. In 2013, the Adelaide-born 33-year-old became a genuine superstar.
Scott eschewed greed with a beautifully tailored schedule. It was designed to enable him to perform best in the tournaments that mattered most to him.
As a result he became the first Australian to win at Augusta. This major breakthrough was among four victories in ten top-10 finishes.
Scott played only 20 tournaments in a year when he further strengthened his billing as one of the game's hottest properties.
Golfers of his celebrity have lucrative playing opportunities thrown at them all the time, but Scott has shown an iron discipline to remain loyal to his priorities.
"I was frustrated and disappointed in my performances in big events," Scott admitted earlier this year.
"We had to cut out some events and I had to be disciplined to put the work in when I was away from the golf course, which I've done.
"We had to lighten the playing load and somehow increase the practice load and find the balance."
In the best part of a month before his Masters win Scott played just the exhibition Tavistock Cup event in Florida. From Augusta in April to Oak Hill, where August's PGA Championship was staged, he competed in only eight tournaments - four of them majors.
The Australian shared third place in the Open at Muirfield and was in a tie for fifth at the PGA. The US Open was the only one that did not yield a chance to win.
Emphatically, he has put to bed a malaise that dogged the early part of his career. "I just got stuck in a routine of there's always another week," he recalled.
"There were 40-something majors and I hadn't really contended on a Sunday. I was so frustrated, it was time to do something radically different."
Aside from the majors, Scott's other priority was to make it a triumphant homecoming when he brought his Green Jacket down under for the Australian season.
Here he put another massive tick in the box with brilliant wins in his home Masters and PGA tournaments. Scott was third in the World Cup at Royal Melbourne where he shared team honours with individual champion Jason Day.
And then came the Australian Open where he let slip a four-stroke lead over McIlroy heading into the final round and finished as runner-up.
Even so, the Aussie summer still belonged to the man universally known as "Scotty". His influence was neatly noted by respected former Tour player Mike Clayton on the Golf Australia website.
Clayton likened Scott's influence to that of compatriot legends like Peter Thomson and Kel Nagle. "He has made the summer of golf in Australia," said Clayton.
"For a month he has signed autographs, spoken at dinners arranged in his honour, had hundreds if not thousands of photographs taken with Green Jacketed arm around adoring fans and all the way he was shooting even 67s.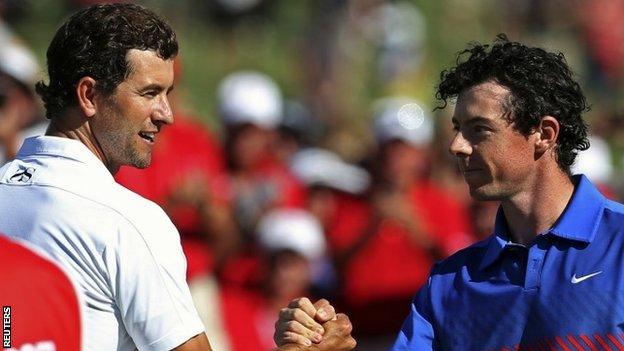 "What is more impressive is he looked like he enjoyed every step of the four-week journey through Queensland, down to Melbourne and then up to Sydney.
"Nothing was a problem or a drama. He never once looked like he was doing us a favour by being here when he could have been sunning himself in Bermuda," added Clayton.
Scott possesses a certain charisma and McIlroy is not lacking in that regard either. Even though he prevented what would have been a hugely popular Australian triple crown, it was fantastic to see the 24 year old return to the winner's circle.
The Northern Ireland player now heads to Tiger Woods's World Challenge event in great spirits. He has tangible proof that his hard work is paying off and his "annus horribilis" seems at an end.
The Californian event boasts a strong 18-man field that includes defending champion Graeme McDowell, Lee Westwood and Ian Poulter.
Meanwhile in South Africa, the Nedbank Challenge tournament has an expanded 30-man line-up with appearances counting on the European Tour.
The field includes the continent's number one Henrik Stenson, US Open champion Justin Rose, Luke Donald, Sergio Garcia and Jamie Donaldson.
Not surprisingly, and one suspects for the best of reasons, Scott is having a rest.