Sam Allardyce: Andre Villas-Boas must handle criticism from media
Last updated on .From the section Tottenham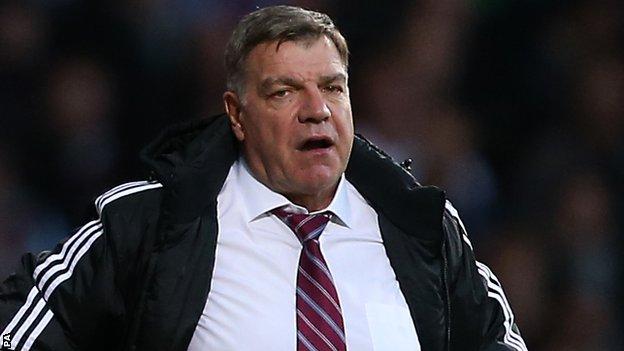 West Ham manager Sam Allardyce says he admires Andre Villas-Boas' defiant stance but thinks the Tottenham boss would be better off accepting press criticism rather than fighting back.
"I admire him for having a go but I don't think it will do you any favours in the end," said the Hammers boss.
"However disappointed you may feel you're better keeping your powder dry."
Villas-Boas became embroiled in an argument with a reporter in the post-match news conference on Sunday and questioned why managers of other clubs had not received the same level of criticism.
Allardyce added: "I admire him for sticking up for himself and having a go for what he believes in. In all honesty, he's probably right."
West Ham boss Allardyce also expressed sympathy for Fulham boss Martin Jol and Wigan manager Owen Coyle, who left their jobs after defeats at the weekend.
Jol was sacked following a the 3-0 defeat by West Ham - a result which eased the pressure on Allardyce after a run of poor form that had led to the West Ham manager's future being called into question.
"It's an unfortunate industry to be in from that point of view. It's very ruthless and volatile," he said.
"I feel for them [Jol and Coyle], but they will probably brush themselves down and try to move on to the next job when that arises. I wish them well."