Ruud Krol quit as CS Sfaxien coach over unpaid bonus
By Nick Cavell & Ian Hughes
BBC Sport
Last updated on .From the section Football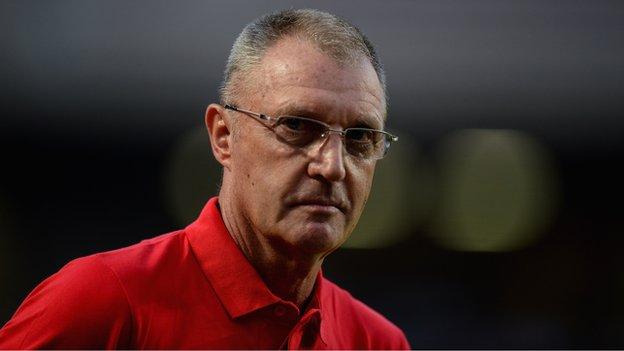 Ruud Krol has revealed he resigned as CS Sfaxien coach because of an unpaid bonus and ongoing financial problems at the club.
Krol's departure ends a successful year at the club in which he also led the Tunisians to a first league title in eight years in May.
"It was my decision to leave. There are a lot of financial problems in the club that I have faced with the players every day, and that have gone on for a long time," Krol told BBC Sport.
"I am still waiting for my Championship bonus. They have been saying they will pay it but they are not paying it. I wanted to leave the club earlier but we were still in the Confederation Cup and that was the reason that I stayed."
However Sfaxien chairman Lofti Abdennadher told the BBC that this is not the case.
"We have paid Mr Krol all his salary and bonuses to date," he insisted.
"Sfaxien also paid Krol while he was interim coach of Tunisia for the World Cup play-off matches against Cameroon.
"He told us that he wanted to leave the club because he had other ambitions for his future."
Krol's exit had been rumoured for some time and it was reported that players and fans were angry over his decision.
On the club's return to Sfaxien from Lubumbashi, where the club lifted the Confederation Cup despite losing 2-1 in Saturday's second leg of the final, it was thought that players and fans were reluctant to include Krol in their celebrations.
But Krol said it was only the supporters who were unhappy.
"I spoke with the players and gave them my reasons why I resigned. We had an emotional meeting. I told the players we can be proud of what we achieved, especially with all the problems we faced - not being paid and having no bonuses," he added.
"But the fans were angry that I was leaving because there were a lot of rumours in Tunisia that I was leaving for another club, and that was a little bit difficult. But of course that happens sometimes in football."
Krol, who also served as caretaker coach for the Tunisian national side when they took on Cameroon in a World Cup qualifying play-off in October and November, says he has not got another job in place.
"At the moment I have more contact with clubs outside Tunisia. But there is nothing agreed. But in football one day you have nothing and the next day you have a three-year contract somewhere," said Krol.
"I still love Tunisia and I am not angry about anything. But I could not stay where I had to face financial problems every day."