Fears someone will die due to rising use of flares in stadiums
By David Ornstein
BBC Sport
Last updated on .From the section Football474
Children as young as eight are being used as "mules" to smuggle flares and smoke bombs into Premier League matches, according to new research.
A survey found a third of supporters have been directly affected by pyrotechnics at a stadium and that 86% are concerned for their safety.
Use or possession of such devices in grounds can lead to bans or prison, and an education drive has been launched.
Policing minister Damian Green has said "someone could get killed".
In the first three months of this season, there were 96 pyrotechnic incidents across the Premier League, Football League, Football Conference and domestic cup competitions.
For the whole of 2012-13 that figure was 172, a steep increase from 72 during the previous campaign and just eight a year earlier.
Last season saw 71 arrests for 'possession of a firework/flare at a sporting event', an increase of 154% on the 2011-12 season.
The Premier League-commissioned survey of 1,635 supporters found more than half of fans had witnessed pyrotechnics at a match, 24% had had their view obscured, 10% had suffered from smoke inhalation and 2% had been affected by heat from a flare.
"It's the biggest concern we've got among fans at the moment," Cathy Long, head of supporter services at the Premier League, told BBC Sport.
"There have been incidents across the world where people have had bad injuries or died. We've been lucky that our leagues haven't had such major issues yet, but we want to stop that from happening."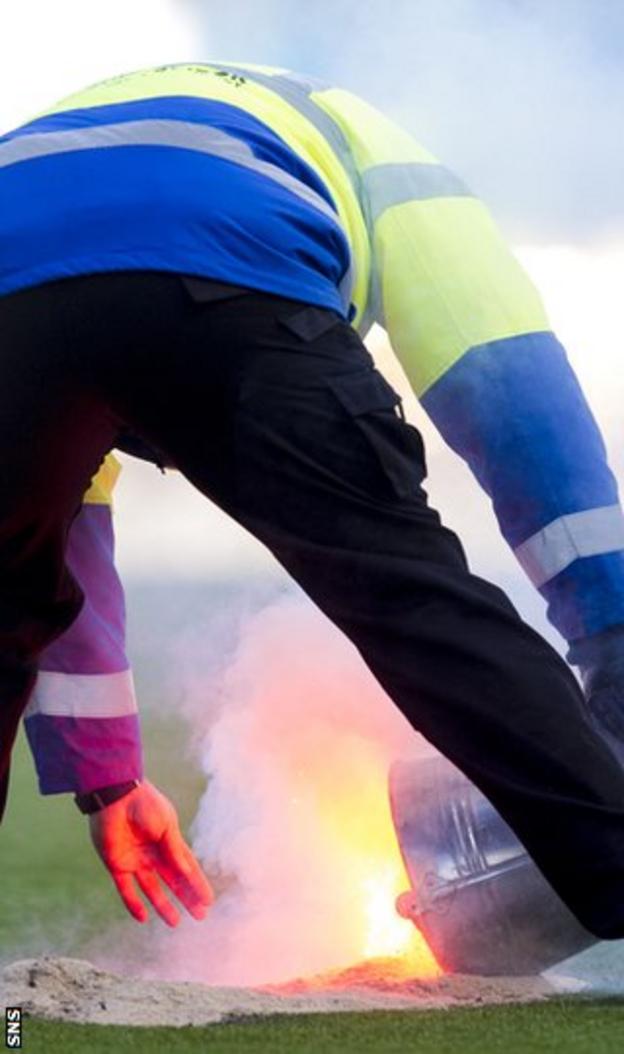 A worrying trend exposed by the research was of children being used as "mules" to bring pyrotechnics into grounds on behalf of others.
It claims that at one Premier League match last season, an eight-year-old entered the stadium with pyrotechnics in his rucksack and was seen passing them to members of an adult group who let them off.
"A lot of supporters may be unaware that the use or possession of pyrotechnics is actually illegal and the ultimate sanction is prison," said Football Supporters' Federation caseworker Amanda Jacks.
Two-thirds of parents said increased use of pyrotechnics was putting them off bringing their children, a feeling Ruth Maddocks can relate to.
Her eight-year-old son James was in the Everton section at Liverpool last season, but missed the action after being struck by a smoke bomb.
"It was before the game and the players had all just come out on to the pitch," she told BBC Sport.
"Everyone was standing up so my son was standing on the chair. My husband just heard James saying 'ouch!' and on the back of his neck he could see a really big red mark but ash still burning away at his skin.
"My husband flicked it off and then took James to be treated by St John Ambulance, who put some gel on it and a plaster. He came back to the seat but it was such a shake-up for him he couldn't stay."
More commonly associated with overseas football stadiums, the use of pyrotechnics is a relatively new phenomenon in English football.
"The European influence is very, very strong," Jacks added. "I've no doubt people think pyro creates a better atmosphere and enhances supporting their team. Whether or not that's true, it's illegal. They might end up seeing Christmas inside a cell."
In October, Fifa began disciplinary proceedings against the England and Poland Football Associations after flares, which burn at temperatures of 1,600C (the melting point of steel) were lit during a World Cup qualifier at Wembley.
Earlier that month, assistant referee David Bryan was hit by a flare during a match between Aston Villa and Tottenham at Villa Park.
A 15-year-old boy suffered lung damage from a smoke bomb thrown during Villa's trip to Wigan in May, and in February a 14-year-old boy was killed by a flare thrown during a match in Bolivia.
A man whose father was killed by a flare at a World Cup qualifier between Wales and Romania in 1993 says "nothing has been learnt" from the tragedy, while the Scottish FA hopes to eradicate their use following two incidents last Saturday.
"These people don't care about the consequences - they think it's a laugh," said Dave Lewis, head of security at Everton.
"It's not a laugh and the consequences are dire."
The government-backed campaign aims to tackle the problem with pyrotechnic detection dogs, amnesty bins, an advertising campaign and improved camera surveillance and body searches.