Hull City: Steve Bruce says owner Assem Allam 'misinterpreted'
Last updated on .From the section Hull
Hull City owner Assem Allam was misinterpreted in a dispute with supporters over rebranding the club, according to manager Steve Bruce.
"I think what he was saying was he needs the situation to die, not the supporters to go away and die," Bruce told BBC Radio 5 live.
"I think there's a misinterpretation."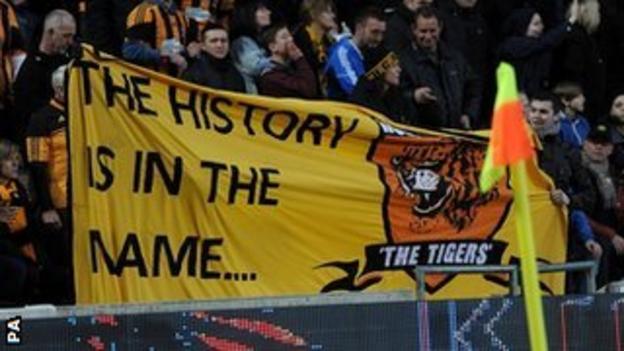 Allam, who took control in 2010 when Hull were in the Championship, wants to phase out "City" from the club's name and replace it with a Tigers brand he believes is more marketable.
And the 74-year-old Egyptian-born businessman told the Independent protests against the proposal from some of the club's fans "disturb and distract the players while taking away the rights of others to watch football".
Bruce, appointed Hull manager in June 2012, said: "The owner's been [in Hull] 45 years, and I'm not making excuses here, but if you speak to him he still hasn't quite grasped the English language."
The home fans displayed banners and sung in support of Hull City in its current guise during the 3-1 defeat of Liverpool on Sunday, and City Till We Die wants fellow fans "to continue their fine support for our fantastic team while positively expressing a preference for our current name".
Bruce is hopeful Allam can understand their feelings about the proposed name change and hopes the issue will not take attention from the achievements of his side, who sit 10th in the Premier League.
He said: "I think the chairman has put something like £70m into this club, so without him there wouldn't be a club or a 'Hull City' - it would be down the tubes.
"We have to respect his wishes, but on the other hand he has to understand too that a lot of people feel very, very strongly about this.
"The last thing we need in our first year back in the Premier League is any distractions, because it's hard enough. At times, when things aren't going so well, it can create an atmosphere that no-one wants.
"We should be enjoying the Premier League rather than talking about a badge or a name change."
Bruce intends to talk to Allam to attempt to broker a "happy conclusion".
He added: "I've got to have a conversation with him. I don't think he understands quite what it means to the history and the tradition.
"But if he wants us to play in pink fairy dresses then he is entitled to that view."