Yobo and Odemwingie reveal their Nigeria ambitions
By Oluwashina Okeleji
BBC Sport
Last updated on .From the section Football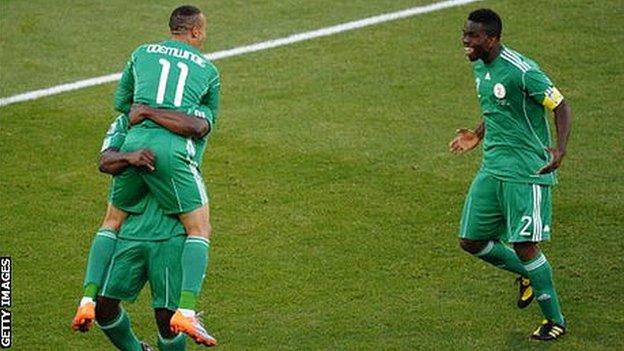 Joseph Yobo and Peter Odemwingie, who have been overlooked at international level in the past year, are hoping to impress Nigeria coach Stephen Keshi in a bid to secure their places in the Super Eagles World Cup squad.
Fenerbahce defender Yobo had a public spat with Keshi after reacting angrily to being omitted from the squad that drew 1-1 against Kenya in a World Cup qualifier at home in March.
Cardiff City striker Odemwingie played at the 2004, 2006, 2008 and 2010 Nations Cups.
He had accused Keshi of disrespect by not informing him personally of his decision to leave him out of his 2013 Africa Cup of Nations squad.
With the coach publicly revealing he is keen to end their time in the international wilderness, both players are relishing a reprieve in the hope of securing inclusion into the final squad for Brazil 2014.
Yobo - who made his international debut in 2001 - is determined to rise to the challenge.
"We've spoken a couple of times and the coach says I'm still in his plans so that's some great news," Yobo told BBC Sport.
"He has always said that I'm the captain. He is the boss, and he decides who he wants to call up to the squad."
The 33-year-old, who is his country's most capped player on 93 appearances, is also aware he has his work cut out to earn a ticket to Brazil.
"On my part, I want to give myself the best possible chance to make the squad. To do that, I have to stay in shape and play regularly," he said.
"If I don't get playing time at Fenerbahce, I will go elsewhere to get regular football.
"It's a big opportunity and every professional footballer would love to play at the World Cup, so I'm no different from any ambitious football player."
Odemwingie last played for the Super Eagles in February 2012 in a goalless draw with Rwanda in a Cup of Nations qualifier.
A representative from the Nigerian Football Federation watched the 32-year-old against Manchester United in the Premier League last month, and the player told BBC Sport there could still be a glimmer of hope of flying with the Super Eagles again.
"I was in the squad in 2002 and went to the World Cup in 2010, it would be a dream come true to get another chance to play in Brazil," Odemwingie said.
"The World Cup is a big stage, hopefully I can do enough at club level to impress the coach.
"The team has been doing well, they are the African Champions and gave everything to secure a World Cup place.
"You can't expect an automatic call-up from the coach, you have to fight and prove yourself worthy to be part of the team.
Odemwingie also insists he will not let pride get in the way of any possible call-up.
"People keep asking, 'will you turn it down?' Of course not.
"I'd love to go to the World Cup. But I want to do what's right for my country, for the team and if I can help then I will."
Odemwingie, who was born in Uzbekistan, has represented Nigeria at the Olympics, Africa Cup of Nations as well as the Fifa World Cup.
He has played 54 times for Nigeria and scored 9 goals.