LA Galaxy boss rules out Robbie Keane & Landon Donovan moves
Last updated on .From the section Football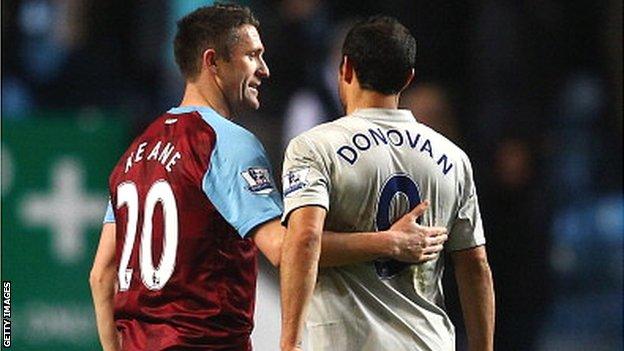 Los Angeles Galaxy coach Bruce Arena says Robbie Keane and Landon Donovan will not return to the Premier League on loan during the American off-season.
The regular Major League Soccer season runs from March to October, making short-term loan moves a possibility.
Keane spent two months at Aston Villa at the start of 2012 and Donovan joined Everton on loan in 2010 and 2012.
"They've had a full 11 months of play and need some time off, then need to get back to LA," Arena insisted.
Much travelled Republic of Ireland striker Keane, 33, joined Galaxy from Spurs in August 2011, while Donovan has been with the Los Angeles club since 2005.
Both players featured alongside David Beckham as Galaxy won the MLS Cup final in 2011 and all three were part of the team that successfully defended the crown last December.
Donovan had been linked with a third spell at Everton but Arena said: "Our players aren't going anywhere."
The coach revealed that Donovan, 31 will instead spend January at a training camp with the US national team alongside Galaxy defender Omar Gonzalez in preparation for next year's World Cup finals in Brazil.
"Our players have had a really tough run this year, in particular Robbie and Omar with all their requirements with national teams," he added.
"They need to get back here to LA and be ready for a challenging campaign that includes in the beginning not only the league but the [Concacaf] Champions League."