Glasgow helicopter crash: McKeown plays after rescue duties
Last updated on .From the section Stranraer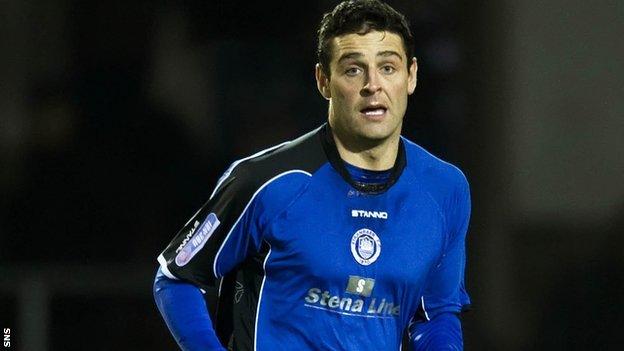 Stranraer captain and firefighter Frank McKeown played in a fourth-round Scottish Cup tie just hours after carrying out "traumatic" rescue duties at the Glasgow helicopter crash scene.
McKeown was one of more than 100 firefighters working through the night at The Clutha pub, before playing against Clyde.
"Obviously it was a bit of different build-up to a game," said McKeown.
"Last night was a bit traumatic - an hour [of sleep] is what I got."
He continued: "The emergency crews there did a great job."
Eight people are now confirmed to have died after a police helicopter crashed into the busy pub in Glasgow city centre.
A minute's silence was observed at all Scottish Cup matches in remembrance of those involved.
"I took a wee moment to reflect on last night to be honest," McKeown told BBC Scotland after Saturday's match.
"Obviously, thoughts go out to friends and relatives and stuff. I suppose it does put things into perspective - it's only a game of football, you know.
"I feel OK just now. Busy last night and an hour's sleep, which is not like me because I like my sleep.
"It took me a wee while to get into the game but I was glad I played. Basically just a bit of adrenaline and stuff got me through the game thankfully."
The match at Broadwood finished 1-1 and will go to a replay at Stair Park in Stranraer.
But defender McKeown said it was always his intention to play the game.
"There was no danger that I was going to not play," he added.
"I wanted, obviously, to help the boys out and get through to the last 16 of the cup.
"We've had a really good season so far and I think we were probably lucky to stay in the cup today. I thought Clyde were the better team."