Manchester City's Joleon Lescott refuses to give up on World Cup
Last updated on .From the section Man City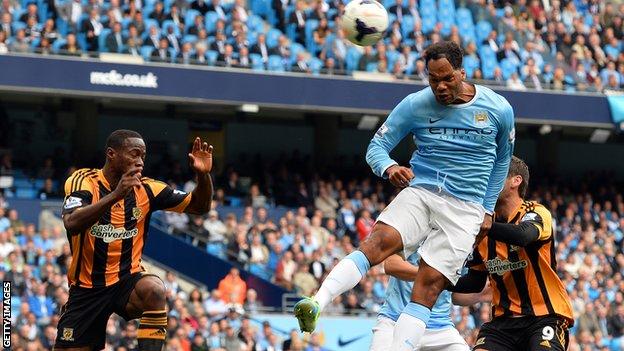 Manchester City defender Joleon Lescott believes he can force his way into England's 2014 World Cup squad.
Lescott, 31, has started just five Premier League games this season and is out of contract in the summer, but wants to fight for his place at City.
"It does not look like I am going to the World Cup at the minute," he said.
"But if I am playing for City and we are progressing in the Champions League and the title race, then there might be a place for me."
Lescott has not played for Roy Hodgson's side since a 1-1 draw with Montenegro in a World Cup qualifier in March.
"I have not been in the last few squads, so it is going to be hard," he said.
"I have not given up. But I know that comes from playing for Man City, so the faster I can get myself back in at City, the better."
Lescott, who has won 26 England caps, featured in City's 4-2 Champions League win over Viktoria Plzen on Wednesday and is hoping for more chances from manager Manuel Pellegrini.
The former Everton defender played a major role in City's 2011-12 title-winning side but fell out of favour with ex-boss Roberto Mancini last season.
Pellegrini has not shown much faith in the England defender either with limited opportunities, even though centre-back Vincent Kompany has missed a number of games through injury.
But Lescott is still keen to extend his stay at the Etihad Stadium.
"It is hard not playing. No professional enjoys it and I am no different," he said.
"It is not great not playing in the last year of my contract.
"The situation is not ideal but I just have to try to play well when I am given the opportunity.
"I want to stay, that is the main thing. But the club have not approached me yet, so I don't know what the situation is with them.
"If I am playing for my future here, then great. If I am playing for it elsewhere, then so be it."