FA Trophy run important says Wrexham boss Andy Morrell
Last updated on .From the section Football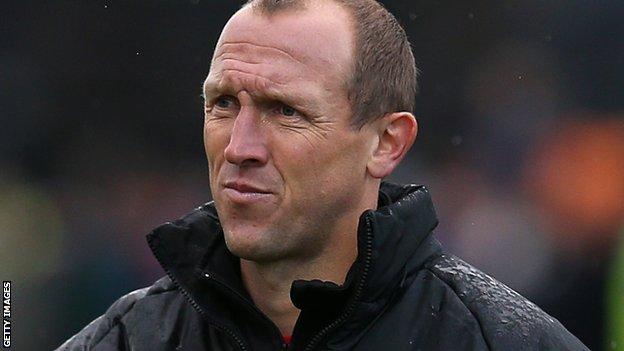 Wrexham player-manager Andy Morrell says another good FA Trophy run would be a further boost to the club's finances.
Morrell's side begin the defence of the Trophy at home to Gresley in the first round on Saturday.
The Supporters' Trust owned club announced on Thursday they are now debt free.
"The FA Trophy and FA Cup is important because it's all revenue to the club," Morrell said.
"Obviously the league is the priority [and] we need to be better in the league.
"We've started to turn the corner a little bit I feel, so we just need to keep that momentum going on Saturday."
Wrexham received a financial boost after beating Grimsby Town to win the FA Trophy at Wembley in March.
The club is owned wholly by supporters following a takeover two years ago after a long period of financial problems.
The club's directors have confirmed the Conference Premier club is now debt free
"They've worked very, very hard over the past couple of years since they've been in charge," Morrell said.
"Things have gone ok on the pitch to help matters and we've just got to look forward to getting up back up this league and running a football club in the right manner."