Kilmarnock: Billy Bowie prepared to run club

Last updated on .From the section Kilmarnock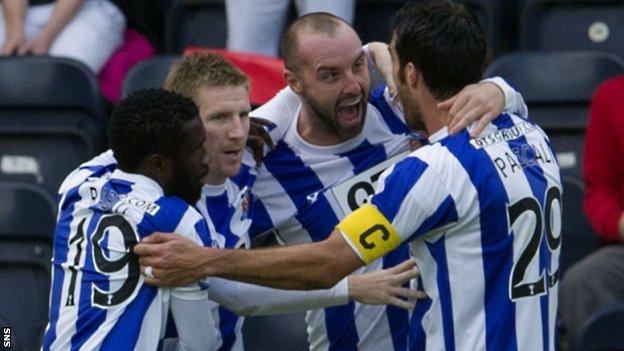 Businessman Billy Bowie says he is prepared to go it alone in running Kilmarnock Football Club if chairman Michael Johnston were to leave.
Bowie is hopeful that recent talks with the Kilmarnock Futures Consortium will result in a deal to take over the club.
But he is prepared to step in should those negotiations come to nothing.
"I've invested £1.4m in the club and, if I need to, I'm prepared to go it alone to reduce the debts by £500,000 a year," he told BBC Scotland.
"The club needs a new chairman, but Michael could stay on to help out.
"He has done well to reduce the debts already, but he needs help with the situation the club is in.
"There was a meeting three weeks ago and we hope to have news next week (the current week).
"We are talking to local business people who want to get involved."
Meanwhile, consortium sources told BBC Scotland that it was ready to pull out of this week's talks over concerns at the way it had been treated by Johnston and his representatives.
"They felt they were not being given the respect they should have in their attempts to get involved in the club," the source said.
"They were within a hairsbreadth of walking away from the deal.
"They are a serious group of people, yet they knew nothing about other deals being done surrounding the hotel owned by the club at the time that they were negotiating.
"The consortium has the money to do the deal and hopefully this situation will have clarified things now."
The consortium includes Alan McLeish of club kit sponsor QTS, local businessman Chris McMail, from Microtech, businessman Kenny Alexander and the former Kilmarnock chief executive and MSP, Ian Welsh.
It has formed an alliance with a working party comprising local MP Cathy Jamieson, Kilmarnock Supporters Trust, Kilmarnock Football Club Supporters Association and small shareholders.
"They are very much up for working with the fans groups to secure the future of the club, but they are very angry at the way their bid has been treated," added the consortium source.