Cardiff City: Malky Mackay ignores manager speculation
Last updated on .From the section Cardiff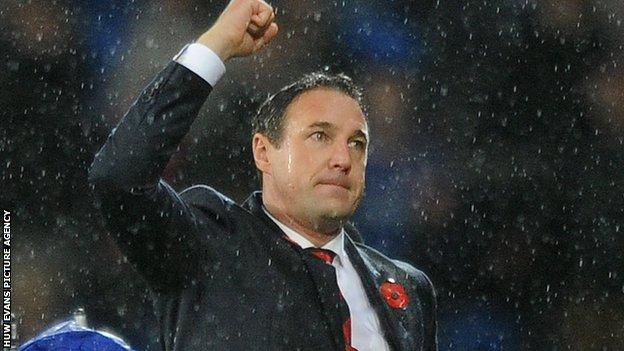 Cardiff City boss Malky Mackay is ignoring speculation linking Turkish coach Yilmaz Vural with the Bluebirds.
Club chairman Mehmet Dalman is reported in the Turkish press to have met Vural but Mackay says he is not worried.
The Vural rumour is the latest development after head of recruitment Iain Moody left the club in October.
"It [the Vural link] doesn't concern me in the slightest. I've got my job to do and I'm concentrating on that," said Mackay.
"I look after my team. My responsibility is to my team and our supporters and that's exactly what I'm doing."
Dalman, who has been a close ally of Mackay's during the recent upheaval at the club, also rubbished the reports.
"I've read the reports and I have to say I am quite angry by it all. I have never met the guy, never spoken to him and never even heard of him," he said.
"It's pure fantasy. This is about some guy in Turkey trying to promote himself, but the story is total rubbish."
Mackay's response comes just weeks after he reassured fans he intended staying at the club for the foreseeable future.
That came just after he had guided Cardiff to a 1-0 win over rivals Swansea and since then he has had a 2-2 draw with Manchester United.
Back in October club owner Vincent Tan, the The Malaysian businessman, replaced Moody as head of recruitment with Alisher Apsalyamov, the 23-year-old Kazakh who was at the club on work experience.
Apsalyamov has since stepped aside temporarily from his role over a visa issue.
On November 8 Mackay said: "I'm very proud of being manager here.
"We have worked hard as a staff for two and a half years now to take our thoughts and our beliefs forward, mould that squad to where we are now.
"We want to make sure that is the best going forward for Cardiff."