Hearts: More cash from fans may be required, says administrator
Last updated on .From the section Football
Hearts may ask fans for more funds if the club runs out of money before the end of the season, according to administrator Bryan Jackson.
at a meeting of some of the club's creditors on Friday.
But Jackson needs to acquire the majority shareholding from UBIG, , and only has funds to last until March.
"There's nowhere else for me to go if we run into difficulties," he said.
"We'll just have to take that as we go. The cash flow is fluent, it can change.
"We've had a couple of plusses because of the Cup games [against Hibernian and Celtic].
"Maybe we'll get another, plus with a bit of luck but you can also get minuses, depending on how things happen; it's very fluid.
"We do have funds, on the face of it, to get to the end of February into March. That's the timescale we initially worked to and we have to see what happens after that."
Supporters rallied to help the stricken Edinburgh club when they entered administration in June, season ticket sales exceeding the target set by administrators.
And , offered creditors £2.5m towards debt of about £30m at Friday's summit.
, abstained from the CVA vote.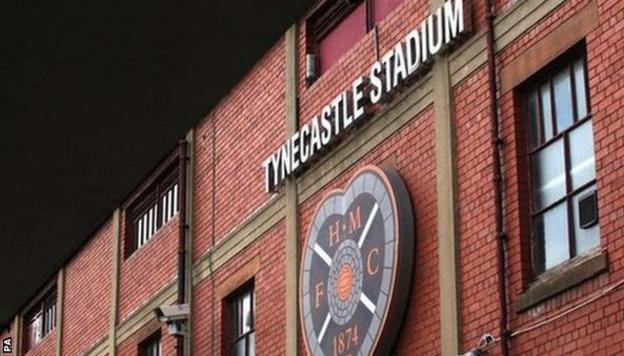 And the investment firm are expected to hold a creditors meeting in January, after which it will become clear whether the majority shareholding in Hearts can be released to Jackson and FoH.
"I've got to convince them that the shares essentially have no value in terms of the club being in administration with a massive amount of debt," explained Jackson.
"But, of course, we require them for technical purposes; the purposes of the CVA, but they'll have to be convinced that that's correct and they'll have to satisfy their own creditors.
"In some respects it's a big obstacle and it's a difficult one to predict because we're dealing with different legislation, a different country and different administrator, who has their own duties, their own obligations to their creditors and their court.
"If we don't get the deal done at all for the shares then, unfortunately, everything collapses. That's the reality of it.
"We just have to do everything we can at our end as quickly as we can and just hope that we get there as quickly as possible."