Fifa World Cup 2014: All you need to know about Friday's draw
Last updated on .From the section 2014 Fifa World Cup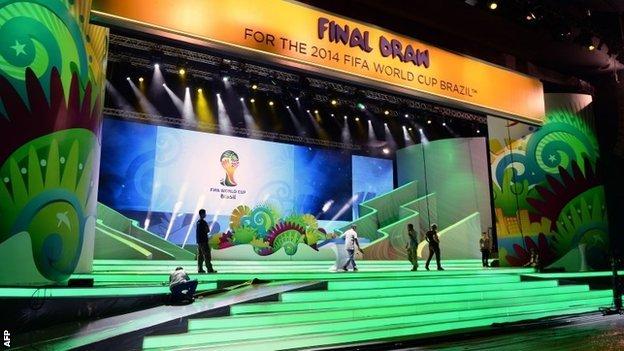 The 2014 Fifa World Cup takes place in Brazil, starting on 12 June and finishing on 13 July.
It will be the 20th time the tournament has been held and the first to take place in Brazil since 1950, when the host nation lost to Uruguay in the final.
This Friday will go some way to determining the prospects of the 32 participating nations when the draw for the group stage takes place.
Where is the draw? How can I watch?
The draw for next summer's World Cup finals takes place on Friday, 6 December, starting at 16:00 GMT.
It will be held in the upmarket coastal resort town of Costa do Sauipe in the province of Bahia, approximately 56 miles from the host city of Salvador.
Brazilian actors Fernanda Lima and Rodrigo Hilbert host the draw, with singers Margareth Menezes, Olodum and Emicida involved in a lavish opening show, which has been designed to showcase the host nation's natural beauty.
The balls will be drawn by famous players from previous tournament. These will include England's 1966 hat-trick hero Sir Geoff Hurst, France's Zinedine Zidane, Brazil's Cafu and Italy's Fabio Cannavaro.
There will be live text commentary of the event on the BBC Sport website and app from 14:00 GMT, with Radio 5 live beginning their coverage from 16:00 and live television coverage of the main draw itself on BBC Two from 16:30.
The 32 teams who have qualified for the finals will be drawn into eight groups of four - with the top two in each group progressing to the knockout stages.
There can be no more than two European teams in any one group and only one from South America.
Who are the seeds?
The eight seeded teams - Brazil, Spain, Germany, Argentina, Colombia, Belgium, Uruguay and Switzerland - are in Pot 1.
Brazil have already been allocated Group A. The other seven will be then placed in Groups B-H as they are drawn out.
The seeds are the seven highest-ranked teams in Fifa's world rankings plus the host nation of Brazil.
Who else is there?
Pot 2:

Ivory Coast, Ghana, Algeria, Nigeria, Cameroon, Chile, Ecuador.
Pot 3:

Japan, Iran, South Korea, Australia, United States, Mexico, Costa Rica, Honduras.
Pot 4:

Bosnia-Hercegovina, Croatia, England, Greece, Italy, Netherlands, Portugal, Russia, France.
The countries have been placed in pots dependent on their geographical region.
The unseeded South American countries and the qualifiers from Africa are in Pot 2, Pot 3 is made up of the teams from Asia and North and Central America and the nine unseeded teams from Europe are in Pot 4.
Which pot are England in?
Roy Hodgson's team have been placed in Pot 4 with the other unseeded European qualifiers.
However, England could yet be moved into Pot 2.
It had been widely reported that there would be eight teams in Pot 4 - with France moved into another pot as the lowest-ranked European team at the cut-off point in October.
However, football's world governing body Fifa announced on Tuesday that a pre-draw will take place before the main draw and one country will be moved into Pot 2.
How does the draw happen?
After one European team from Pot 4 is moved into Pot 2 at random (to make the pots even), the draw can begin.
Each pot is drawn one ball at a time into each group - so the eight top seeds (Pot 1) will be drawn randomly into the eight groups, from A to H in order, with the exception of hosts Brazil, who are definitely in Group A.
Following this, the teams from Pot 2 will be drawn at random into each group, however there are caveats. The European team that is moved to Pot 2 will only be put in a group with one of the four South American seeds. These South American seeds will be put into a temporary Pot X. One of these four teams will be drawn, and that is the group the European team will be put in. The rest of the teams in Pot 2 will then be drawn at random into Groups A to H in order (skipping the Group which the European team has already been drawn in). If one of the two unseeded South American teams are drawn into a Group with a seeded South American side, that Group will be skipped and they will be placed in the next available Group.
Pot 3 is then drawn into each group, from A to H in order, before the same is done for Pot 4.
Following this, there will be a draw for the positions of each team in each group, excluding the seeds. The seeds will automatically take 'Position 1', with the other teams being drawn at random for Positions 2, 3 and 4. The Position decides in which order the teams play each other and in which cities.
Who could England be drawn to play against?
This is complicated.
A lot could depend on whether England are the European team drawn into Pot 2.
If that happens they will definitely face a South American team from Pot 1 - either Brazil, Argentina, Colombia or Uruguay.
They would also be guaranteed European opposition from Pot 4 and could end up with a draw that comprises Brazil, the United States and the Netherlands.
Arguably, an example of a best-case scenario if England are placed in Pot 2 would see them play Colombia, Honduras and Bosnia-Hercegovina.
If they remain in Pot 4 then they could face any of the top seeds.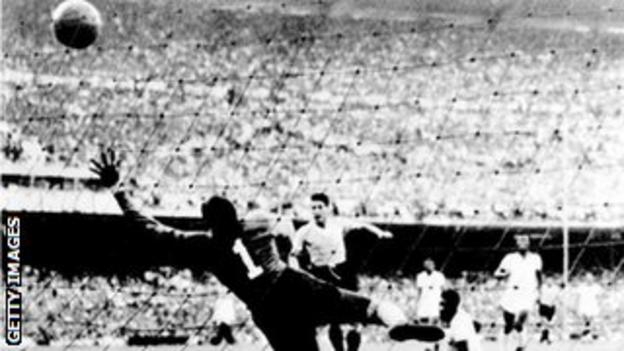 A good draw might see them face Switzerland, Algeria and Honduras. But a terrible draw might see them land Spain, Chile and the United States.
Regardless, Hodgson claims that he is more concerned about where his team are based, rather than who they are drawn against.
What is Pot X?
The four South American seeds - Brazil, Uruguay, Colombia, Argentina - will be put into a temporary Pot 'X'.
The three teams not drawn against the European team in Pot 2 will go back into the main draw.
What happens when draws go wrong?
Anyone yawning their way through Fifa's long winded and complicated explanation of their draw procedure would do well to have a look back to the draw for the 1982 World Cup finals.
In Spain, Chile and Peru were supposed to be kept apart from fellow South Americans Argentina and Brazil but the officials forgot to leave their balls out.
Scotland were wrongly put in Argentina's group after Belgium were put into Brazil's group by mistake, causing the draw to be partially done again. England striker Kevin Keegan was pictured laughing during the confusion.
There was also anger that England were one of the top six seeds despite struggling to finish second in their qualifying group. To cap it all, a metal cage housing some of the balls jammed, breaking one and leaving officials poking their fingers through the gaps to retrieve the debris.
Where are the games being played?
The World Cup starts with the opening game in Sao Paulo on 12 June 2014 and ends with the final in Rio on 13 July.
In total 12 stadiums in 12 cities will host matches - providing they are all completed on time.
For a full rundown on the grounds, check out our stadium guide.