Alisher Usmanov: Foreign owners are good for English football

By David Bond
BBC sports editor
Last updated on .From the section Football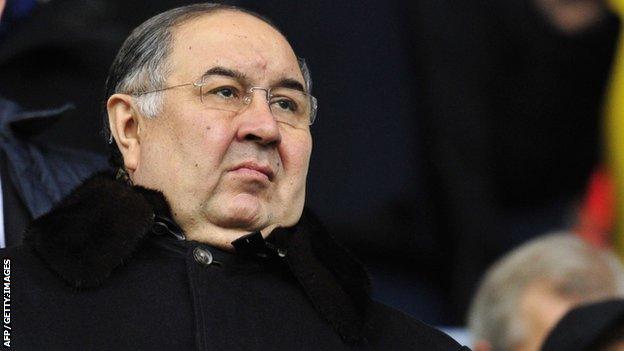 Britain's richest man and Arsenal shareholder Alisher Usmanov has defended the foreign ownership of Premier League clubs, saying it's good for the English game.
The billionaire said the growing influence of overseas shareholders was not stripping the sport of its identity in England.
And while he praised Arsenal's impressive start to the Premier League season, he said he reserved the right to criticise the club's board if he felt they weren't getting things right.
The Russian, who has a fortune of more than £13bn, has spent more than £200m over the last six years, building a 30% stake in the Gunners.
He has been involved in an uneasy stand-off with the club's American majority shareholder Stan Kroenke, accusing him and chief executive Ivan Gazidis of failing to invest sufficient money in Arsene Wenger's team despite significant reserves of cash.
Usmanov has stated he would like to take full control of Arsenal in the event of Kroenke ever deciding to sell.
Asked whether it was right that so many top English clubs were now foreign-owned, he said: "It's an artificial question which somebody wants to put on the table.
"Everyone who has legal right to buy something can perform this right.
"We have Kroenke, [Aston Villa's Randy] Lerner, many, many people and now many Asian owners. I think everyone is comfortable if the club are successful.
"If the club are not successful then, of course, everybody wants to find somebody guilty."
In recent years, investments from outside the United Kingdom in Premier League clubs have included Russian billionaire Roman Abramovich at Chelsea in 2003, American Malcolm Glazer taking control at Manchester United in 2005 and Sheikh Mansour from Abu Dhabi buying Manchester City in 2008 from former Thailand prime minister Thaksin Shinawatra.
"I'm sure it is good [for English football]," added Usmanov. "When investors come and invest in the economy, in British football, it is a big part of the entertainment economy in the United Kingdom.
"What's bad?"
With the Football Association chairman Greg Dyke establishing a commission to examine the underperformance of the English national team, Usmanov appeared to hint that top clubs like Arsenal needed to work harder to get the right mix between foreign and English players.
He said: "We need to find the balance of international players and local players. Every country has this problem. Russia also.
"I think everybody must think about his own success. National team - it is for national federations. Clubs for the Premier League. Everyone has his own interests."
Last year Red and White Holdings, the investment company which holds Usmanov's shares in Arsenal, wrote an open letter to the club's board, criticising their prudent self-sustaining model and accusing them of squeezing fans with higher ticket prices at the same time as selling their shares for personal profit.
The letter also criticised the lack of spending on the team, arguing that it led to the departure of Robin van Persie to Manchester United.
But since then Arsenal have spent £42.5m on the German international Mesut Ozil and are currently top of the Premier League.
Usmanov said he was very happy with the way the club had started the season but added that he would always speak out if he felt they were making mistakes.
He said: "I never said anything bad about the club or somebody personally. I said what, in my view, we can do - not better - but more effectively. I continue to keep this right for me.
"If I am [a] fan, if I am [a] shareholder and my team is in position number one, of course I am very happy. I hope this result keeps on until the end of the season. I wish this [for] my club.
"The club and team demonstrate Arsene Wenger's capacity to be number one. This is Wenger's responsibility and his vision.
"He does not every time have the possibility to solve this. Now I think he has this possibility and we support every effort to make our club [the] best.
"In the past I tell the club that if they want to pretend to be number one in every tournament then they must have best players in the world, and if we don't have them in our squad we need to buy these in the market. Wenger confirmed this by buying, for example, [Mesut] Ozil.
"I don't think somebody heard me but in any case anything that gives to Arsenal, good results, is for us very good news. This is our mission and hope.
"We wait - I think we begin a new era for Arsenal where we win trophies. It's most important for football, winning trophies. We will be number one."