South Africa's win over Spain ratified by Fifa
Last updated on .From the section Football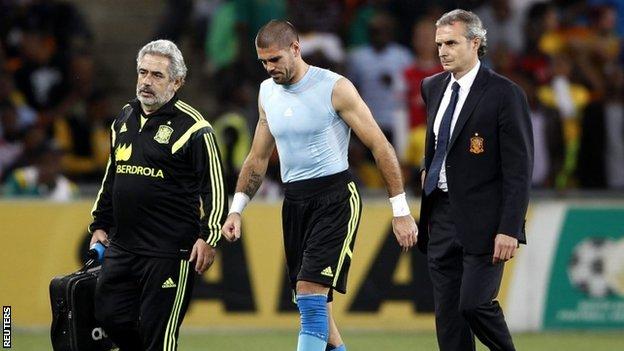 South Africa will keep the ranking points earned in the friendly win over Spain after Fifa confirmed the 19 November match was an A international.
Fifa said in a statement: "South Africa shall not suffer any negative consequences on its part for adhering to the agreed conditions and only using up to a maximum of six substitutes."
However, Fifa may still take action against world champions Spain.
"Regarding the alleged incident of Spain using more than the maximum of six substitutes, Fifa is currently analysing the information at its disposal to assess possible next steps," Fifa added.
South Africa won the match, played at FNB Stadium in Johannesburg, thanks to a lone goal from Bernard Parker in the 56th minute.
But the 1-0 victory might have been rendered worthless had Fifa downgraded the game after Spain's error.
The Spanish made one more substitution than Fifa regulations allow when Napoli keeper Pepe Reina came onon for injured Victor Valdes.
That switch came in the 81st minute, despite Spain defender Alvaro Arbeloa putting on the goalkeeper's shirt in readiness to end the match between the posts in place of Valdes (pictured).
But a Fifa spokesman confirmed: "The South Africa-Spain friendly match of 19 November remains an 'A' international, despite the fact that Spain allegedly used more than the maximum of six substitutes that the Laws of the Game stipulate can be used for such a match.
"Fifa has have taken into account that both teams had agreed on the conditions of the match and submitted the necessary documentation prior to the match in order for FIFA to confirm it as an 'A' international.
"The match shall be considered as an official match and is therefore included in the November edition of the Fifa World Ranking."