World Cup 2014: No plans to move tournament from Brazil

Last updated on .From the section 2014 Fifa World Cup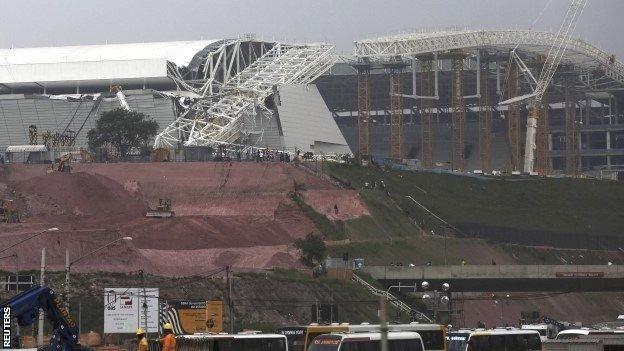 Fifa says it has no plans to move the 2014 World Cup away from Brazil despite the latest setback to preparations for next summer's tournament.
Brazil are due to play the opening match of the World Cup in the 65,000 capacity venue in less than 200 days.
Senior sources within world football's governing body continue to insist "there is no plan B" for the World Cup.
Brazil has already admitted it is struggling to get all 12 venues completed for the tournament.
Six were ready for last summer's Confederations Cup but it is a race against time to finish the remaining six.
Wednesday's accident is the third to have caused deaths in World Cup stadiums in Brazil, with two construction workers having previously been killed during the past two years.
An investigation into the cause of the accident in Sao Paulo is expected to begin on Thursday.
Arena Corinthians, which will stage five further World Cup games, including a semi-final, in addition to the opening fixture, was due to be completed at the end of December to meet a Fifa deadline.
After the World Cup the stadium - also known as the Itaquerao - is expected to accommodate nearly 50,000 people. However, at Fifa's request, 20,000 temporary seats are to be added ahead of the tournament.
Mexico stepped in to host the 1986 World Cup after Columbia said it could not do so in 1982, largely because of economic reasons.
A year later, Mexico was selected as the new host and held the tournament 16 years after doing so for the first time.