Manuel Pellegrini asks more of Manchester City defence
Last updated on .From the section Man City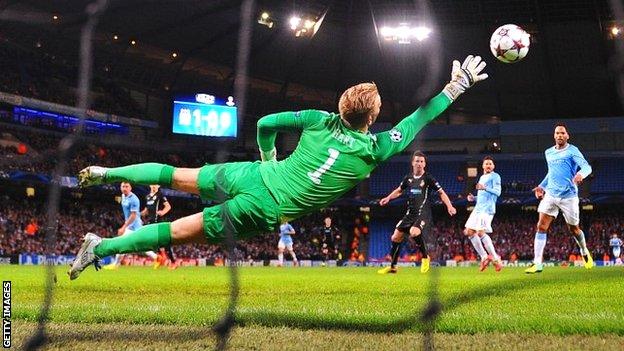 Manchester City manager Manuel Pellegrini said his side need to focus on tightening their defence after they beat Viktoria Plzen 4-2.
City have conceded 20 goals in 19 games this season and Pellegrini wants to see an improvement at the back.
"We can attack without giving so many chances," he said after their Champions League Group D game at Etihad Stadium.
"One of the important things for attacking teams is how to defend. On that front, we did very bad tonight."
He added: "I am talking about the whole team. I think the whole team must know how to defend.
"We didn't have the intensity or the pace today to do it and I am not talking about individual players."
Despite his criticisms, Pellegrini added that second-choice goalkeeper Joe Hart had "played very well" after being picked to face Plzen.
The Chilean has preferred Romanian but the England international made some good saves and was not at fault for either of the Czech side's goals.
Pellegrini said: "I didn't expect that he would have to work so much during the game but I think this is the match when the other team - including Champions League and Premier League (games) - had the most chances to score.
"From Thursday we will start thinking about the next game. Now we are talking about the Premier League but, I repeat, I think Joe had a very good performance," Pellegrini added when asked whether Hart might win his place back for Sunday's meeting with Swansea.
Manchester City had already qualified for the last 16 with a 5-2 win over CSKA Moscow in the previous round of matches.
They could still topple Bayern Munich at the top of Group D if they defeat the defending champions by a three-goal margin in their meeting in Germany on 10 December.