Champions League: Uefa charge Celtic over banners
Last updated on .From the section Football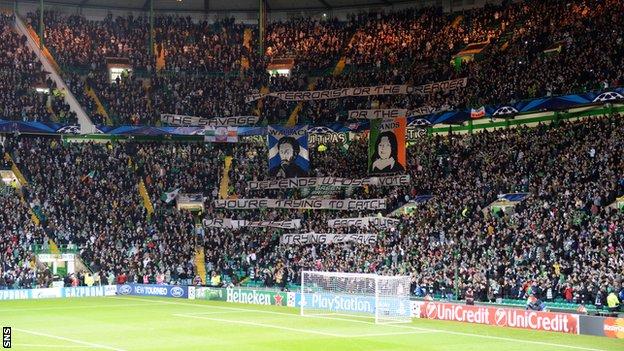 Disciplinary proceedings have been opened against Celtic for an incident of "non-sporting nature" during the Champions League defeat by AC Milan.
Banners with a slogan depicted Scottish warrior William Wallace and IRA hunger striker Bobby Sands.
The case will be dealt with by the Uefa Control and Disciplinary meeting on 11 December.
Celtic chief executive Peter Lawwell described the banners as "nothing more than clear disrespect for the club".
Celtic were previously fined by Uefa over a banner displayed during a Europa League tie against Udinese in 2011.
A penalty was imposed for supporters setting off fireworks during a Champions League qualifier this season.
Celtic have previously warned supporters in section 111 of the stadium, known to house the Green Brigade, over their future conduct or face being relocated.
The Green Brigade is a self-styled "ultras" group of fans known for banner displays and chanting and Celtic have made it "abundantly clear" that "only football-related displays would be permitted and that any political display would lead to a Uefa charge".
"There have now been a number of Uefa charges made against the club during the last three years, relating to behaviour, displays and pyrotechnics - it cannot go on any further," added Lawwell in a statement.
"Let's be very clear. Following the actions of a small minority, these charges are made against the club. It is the reputation of Celtic, our great club and our great fans which is damaged, while others carry on indulging in such behaviour.
"Our supporters do not want this any more. We are a non-political organisation, a top football club in fantastic shape, aiming to play its part as a major football club on the European stage.
"Regardless of the political views people hold, football stadia, whether it is Celtic Park or anywhere else, should not be used to promote these. This is something which all football authorities, including Uefa, have stressed for some time and something well known by all supporters.
"The club don't want it, our manager and our team don't want it, our supporters don't want it and the football authorities don't want it - it has to stop."
Ajax were earlier this month fined £21,000 for fans displaying an offensive banner at their Champions League against Celtic in Amsterdam.