'Messi of the snows' - Claudio Nancufil - wins a trial at Barcelona
Last updated on .From the section Football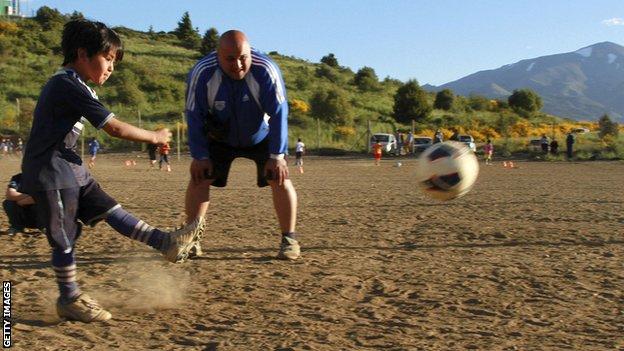 Barcelona, Real Madrid and Atletico Madrid are interested in signing an eight-year-old Argentine dubbed the 'Messi of the snows'.
Child prodigy Claudio Nancufil plays for the Martin Guemes club in the southern Andes ski resort of Bariloche.
He has been signed up by a Barcelona-based PR agency run by Manuel Otero.
"After the Christmas holidays, he will go to try out with these three Spanish teams and then we'll see what each of them offers us," said Otero.
Manchester United and Chelsea are also reportedly interested.
Lionel Messi left Argentina at the age of 13 after Barcelona promised to pay for his treatment for a growth hormone deficiency. Nancufil suffers from a similar condition.
"He's physically small and had the same growth problems detected in Messi when he was little, and he's getting hormone treatment," said Martin Guemes president Marcelo Ernalz.
Ernalz also sees similarities between the pairs' style of play.
He said: "As soon as he started to play at the age of four he was already different from all the rest of his playmates with regards to technique.
"How he takes the ball stuck to his foot, brakes, stops, kicks, scores, shoots on goal, from when he was little he had all these distinct qualities."
Claudio's family can trace their origins to the Mapuche people of the southern Andean mountain range.
His mother Viviana said: "We asked him, how do you do that? And he said, 'I don't know. I just get it in my head and my feet move on their own.
"'I don't know how I play like that. My legs just go.'"