Nigerian FA official banned for taking bribe
By Oluwashina Okeleji
BBC Sport, Lagos
Last updated on .From the section Football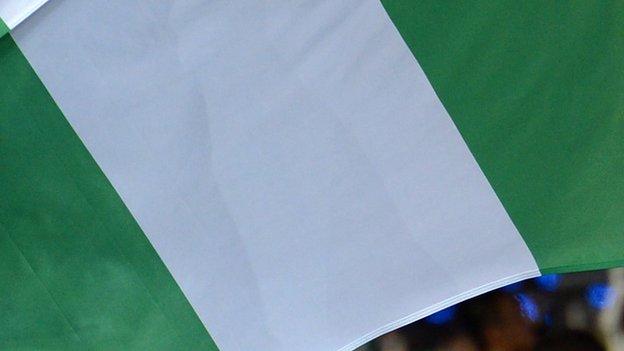 A senior Nigerian football official and a club administrator have been banned for 10 years following their involvement in corruption, the country's football authority has announced.
The Nigeria Football Federation (NFF) banned the chairman of its own disciplinary committee, Olaleye Adepoju, for 10 years for taking a bribe from a club.
The NFF emergency committee also handed Dapo Lam-Adesina same sanction for his role in the scandal, excluding both men from all football-related activities following an investigation.
The football authority also referred to police an allegation that the chairman of Enugu State Football Association, Chidi Ofo Okenwa, was an imposter.
Okenwa was told to step down from his role pending the outcome of the police probe.
"The sanctions handed down by the committee are entirely fair and should act as a deterrent to any club or individual who might consider breaching the rules," NFF board member Chris Green told BBC Sport.
"We've handed out a severe sanction to one of our own, another clear pointer to the fact that no-one is above the law.
"Our football must be clean, fair, rid of dirty dealings and professionally run.
"Every corruption or bribery scandal is damaging to the credibility of the sport, but the NFF will continue to work hard to prevent this ugly spectre of scandal from destroying our beautiful game."
Adepoju was a member of the NFF executive committee and also the chairman of the football association in Oyo state, south-west Nigeria.
He was alleged to have received a cash payment of 1.5 million naira ($9,400) before a disciplinary hearing against Shooting Stars, from the Oyo state capital Ibadan, after they abandoned a league match against Sunshine Stars earlier this year.
He was said to have received money to find in favour of Shooting Stars after their players refused to take the field in the second half when the score was 0-0, claiming that one of their officials had been attacked.
However, the NFF rejected Shooting Stars' account and suspended Adepoju from his role in charge of its disciplinary committee.
Adepoju, a lawyer, claimed he took the money for giving legal advice.
Shooting Stars were fighting relegation at the time. A subsequent hearing awarded Sunshine Stars the three points from the match.
"We are prepared to put up with the pain of deep investigations if it keeps the game cleaner," Green said.
Match-fixing and corruption is a problem in Nigerian football and has led to sanctions against a number of clubs, referees and officials.
The NFF's former secretary general Taiwo Ogunjobi was also banned for 10 years last month.
Four clubs were suspended earlier this year after two teams vying for promotion respectively with the NFF calling it a "scandal of huge proportions".