Blunt force Celtic need top quality to compete in Europe

By Alasdair Lamont
Senior football reporter, BBC Scotland at Celtic Park
Last updated on .From the section Football749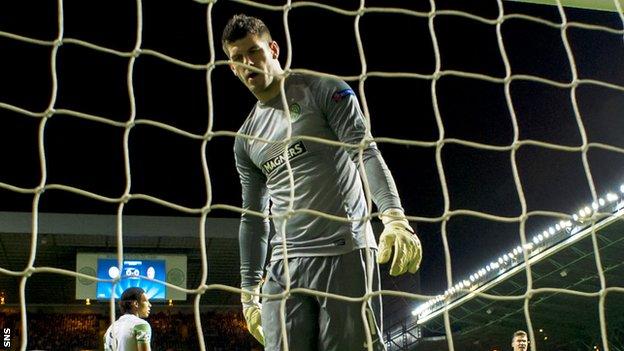 Celtic's financial pragmatism came home to roost on Tuesday night as their European campaign shuddered to a premature halt.
The 3-0 home defeat by AC Milan looks worse on paper than it did as a viewer, though the Celtic defence crumbled in a manner not seen since the defeat to Shakhter Karagandy at the start of the season.
But it is their failure to make a dent in their opponents' goals-against column that is the truly damning indictment of a signing policy that left Neil Lennon short on the quality required to emerge from a tough Champions League group.
Only once in five group matches this season have Celtic scored - a penalty and a deflected shot at home against Ajax.
Otherwise, they have been a blunt force; seldom outclassed, rarely out-fought or out-thought, but just not enough of a threat to ever really look like a team that could qualify for the knock-out stages.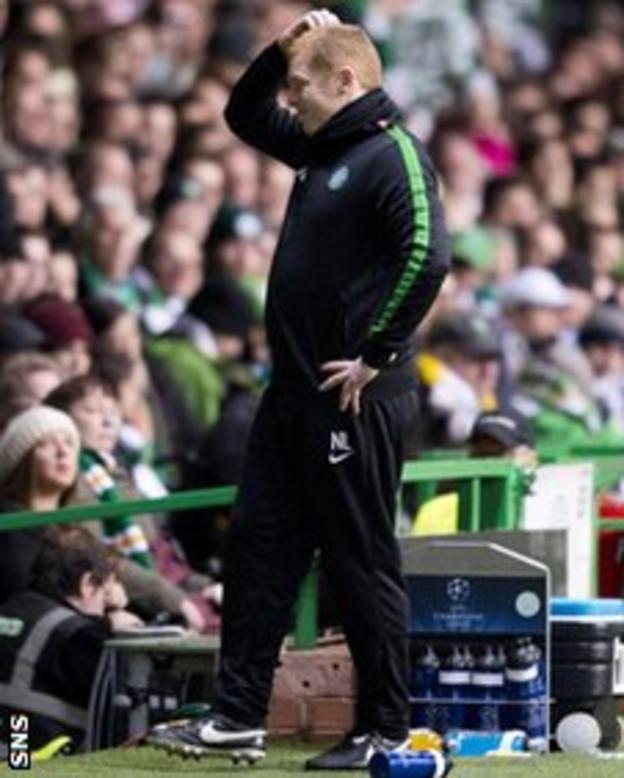 Shorn of three of their stand-out players from last season's Champions League run - Victor Wanyama, Gary Hooper and Kelvin Wilson - Neil Lennon wasn't allowed to replace like-for-like.
That trio left for a combined total of more than £20m, while Celtic accrued in excess of £22m as a result of their European success last time round.
Yet, their outlay on players this summer was less than £10m, not a sum to be sniffed at in Scottish football terms, but when it comes to trying to emulate last year's achievements, spending that amount on five players - Teemu Pukki, Derk Boerrigter, Virgil van Dijk, Amido Balde and Nir Biton - means you are asking the squad to overachieve.
Of those five, only Van Dijk has proved his worth thus far, with the others - for varying reasons - still to provide evidence they will be value for money.
And so as Lennon pointed out in his post-match media conference on Tuesday night, Celtic lacked that little touch of brilliance, the class that usually separates the wheat from the chaff at this level.
Supporters of the Scottish champions could be forgiven for wondering how they might have fared in this group if their club had been a little bolder in the summer transfer market, if they had pushed the boat out a bit further and tried to sign one or two players who might well have made the difference between finishing bottom of Group H and finishing second.
What if Peter Lawwell, Celtic's chief executive who has overseen the club's return to financial well-being, had sanctioned an additional £10m spend to allow his manager to bring in a genuinely first-rate goalscorer?
Might that have propelled Celtic to Champions League progress and further riches?
Possibly.
There is a reasonable case to be made that with a greater cutting edge, Celtic could have taken something not only from Tuesday's game but also from the home game against Barcelona and the match in Milan.
But despite Celtic's relative wealth, such hypothetical scenarios are not part of the decision-making process at boardroom level.
Such a gamble might have been viewed as reckless if the upshot of it all was not what they had hoped.
And so, despite the frustration that is surely being felt both by those within the club and those outwith, for whom Champions League progress would have been most welcome - fans, sponsors, media - Celtic will not go down the road of speculating to accumulate.
Instead they will pursue the policy that has largely served them well in recent years; living within their means, trying to find promising talent in reasonably-priced markets, developing that talent and ultimately selling it on.
Doing otherwise, when there is no domestic challenge to their dominance, might make the last 16 that little bit more likely a prospect, but it would be no guarantee, and, chasing success has caused enough problems for Scottish football as it is.