Arsene Wenger wary of Arsenal's 'tricky' Napoli test
Last updated on .From the section Football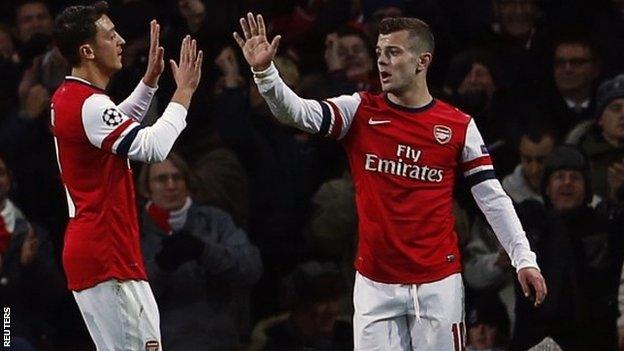 Arsenal boss Arsene Wenger said his team face a tricky game against Napoli but demanded that they "finish the job" to progress in the Champions League.
The Gunners are three points clear at the top of Group F after their comfortable 2-0 win over Marseille.
It means Wenger's men only need to avoid a three-goal defeat in Naples in December to reach the knockout stages.
"It would be a mistake to think we just don't have to lose big," said Wenger.
"We have to play in a positive way and try to win the game, anything else will be a gamble."
Jack Wilshere scored inside 30 seconds and again after the break at Emirates Stadium against the French side, but Borussia Dortmund's victory against Napoli in Germany means the group's qualifiers will be determined after the final round of games.
Arsenal - who have accumulated 12 points in Group F - remain in contention to progress along with Dortmund and Napoli.
"It's the first time I've seen that [12 points is not enough] after 150 Champions League games," said Wenger, whose Premier League leaders secured an impressive 1-0 victory in Dortmund earlier this month.
"It's unbelievable but it's reality. It's tricky but we have to finish the job. I will have to play a full-strength team against Napoli. I can't take any risks."
The Gunners face Cardiff, Hull and Everton in the Premier League before their trip to Italy on 11 December.
"We have a big programme," added the Frenchman. "I have to rotate until the Napoli game without dropping points in the league."
Arsenal beat Napoli 2-0 at Emirates Stadium but Wilshere, who scored his first career double for the Gunners against Marseille, also refused to get carried away.
"It's a tough game. At home they are a very good team. They've got great fans," said the midfielder.
"We're not through yet. We have to regroup again. It's a tough group but we will go again."