2014 World Cup: Fifa rejects Burkina Faso appeal
Last updated on .From the section Football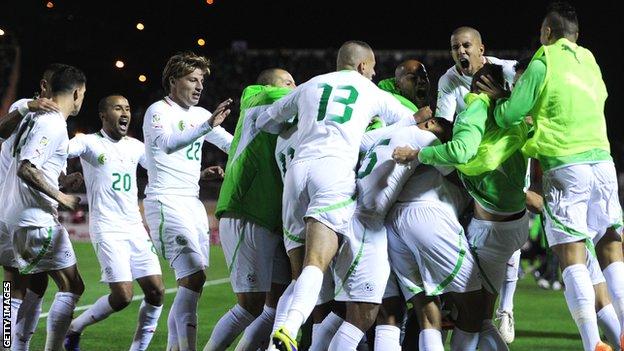 Fifa has dismissed a protest by Burkina Faso that World Cup play-off opponents Algeria fielded an ineligible player in last week's second leg.
The 1-0 scoreline in Blida enabled the North Africans to qualify on away goals following a 3-3 draw on aggregate.
Yet Algeria's qualification will only be fully confirmed once Fifa finishes analysing reports from match officials.
Burkina Faso's football federation (FBF) had also complained that Senegalese referee Badara Diatta did not play out the full four minutes of injury time.
FBF president Sita Sangare says this deprived the Africa Cup of Nations runners-up of the chance to score a goal that could have qualified them for their first World Cup.
However, Sangare's main complaint was that Bougherra had been booked against Mali in the group phase and Burkina Faso in the first leg - yet football's world governing body found no such evidence.
"With regards to the protest lodged by Burkina Faso in relation to the eligibility of Algerian player Bougherra, Fifa communicated to the Burkina Faso Football Federation that the formal conditions to lodge a protest were not met," said a Fifa spokesperson.
"Irrespective of the foregoing, Fifa also communicated that no breach of the Fifa regulations has been committed by the Algerian FA in relation to the matter at hand."
World Cup regulations require that eligibility protests in qualifying are filed within one hour of matches finishing.
While Algeria will fully expect to be part of the World Cup draw in the state of Bahia on 6 December, Fifa added that investigations into the 19 November clash are still continuing.
"Aside from this matter, please note we are still in the process of analysing the different match officials' reports and gathering information," said the spokesperson.
Should no fault be found, Algeria will represent Africa at next year's World Cup alongside fellow continental qualifiers Ivory Coast, Ghana, Cameroon and African champions Nigeria.