Blatter condemns Betis fans over 'racist' Paulao chanting
Last updated on .From the section European Football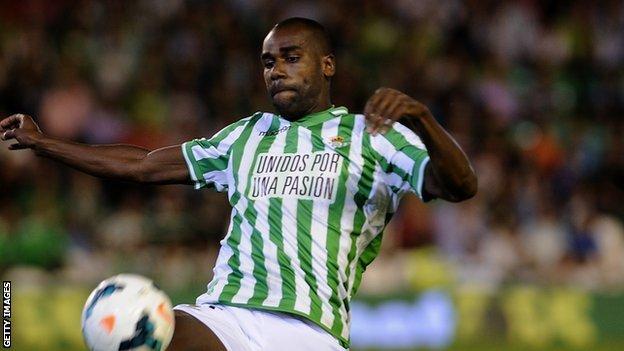 Fifa president Sepp Blatter has criticised Real Betis supporters after they appeared to make racist gestures towards one of their own players.
The incident occurred after Betis defender Paulao was sent off during Sunday's 4-0 derby defeat by Sevilla.
The referee did not mention the episode in his match report.
However, Blatter, the head of world football's governing body, tweeted: "Sickened to learn of 'fans' racially abusing a Real Betis player."
The Swiss continued: "I condemn their actions, which were seen on TV/online by millions.
"It is nonsense to fight racism with fines. It's time for tougher sanctions."
On Monday, Real Betis tweeted that it condemned "any violent or racist act whether directed at one's own player or a rival".
Fifa agreed in May that evidence of racism should be punished with a warning, a fine and/or the playing of a match behind closed doors for "a first or a minor offence".
"For re-offenders or for serious incidents, sanctions such as point deductions, expulsion from a competition or relegation should be applied," they said.
Any person found guilty of a racist offence would be suspended for at least five matches and given a stadium ban.
Brazilian Paulao, who was sent off three minutes before half-time after he pulled down Jose Antonio Reyes, having been booked moments earlier for dissent, said the chanting was "a disgraceful act" and "very ugly".
"My family, in Brazil as well as here in Spain, are sad and worried," he was quoted as saying in Spanish media.
"When I left the pitch I was only upset about the sending off and I did not notice, although my friends told me about it later.
"It's good that this gets a lot of publicity so that action can be taken. We are all the same. Skin colour changes nothing."