Truro City: coach Glynn Hooper says defence needs better focus
Last updated on .From the section Football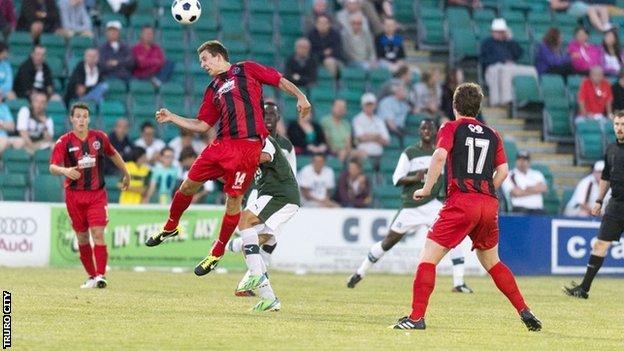 Truro City coach Glynn Hooper says the team's poor record at Treyew Road this season is partly down to a lack of defensive focus.
The White Tigers lost 2-0 at home to Biggleslade Town on Saturday - their sixth home defeat of the season.
"We need to be more focused in defence at home," he told BBC Radio Cornwall.
"Too often we have a comfortable ride and suddenly that changes with two or three passes and we find ourselves defensively frail."
Hooper added: "We have improved well at this since the start of the season, but we have more to do.
"Territorially and possession-wise, we dominated but we didn't do enough in either box.
"They defended better and took their chances better than us and that's why the scoreline was what it was."
Hooper said the players also needed to show more creativity at the other end of the pitch.
"For the majority of it, the players are doing what we ask of them but it's that little bit of quality we lack in the 18-yard box at the minute," he said.
"We're a bit slow in getting the ball forward and we're not taking risks in the final third. We're very conservative.
"I think we have real quality and we've just got to push on to that next level," Hooper added.