Champions League: Scottish champions eye £7m windfall

By Alasdair Lamont
Senior football reporter, BBC Scotland
Last updated on .From the section Football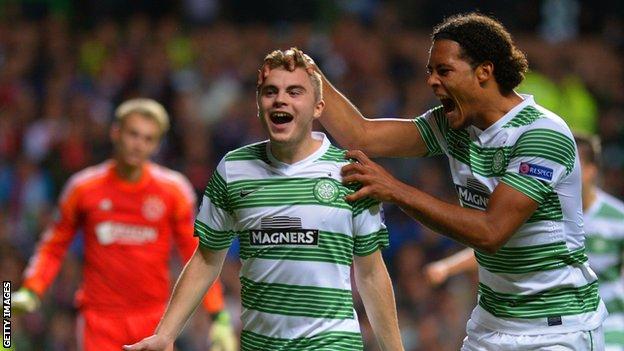 Participation in the Champions League group stage could see the Scottish champions earn an extra £7m.
That is more than double the current deal with Sky and ITV, which is good news for the British teams involved.
Celtic earned just under £7m in TV revenue last term and that figure could increase to more than £14m by 2015-16.
The Glasgow club's total Champions League income in 2012-13, when they reached the last 16, exceeded £22m.
Almost £7m was their share of the "market pool", which relates to the size of the domestic broadcast deal for European competition.
In this case, the Scottish champions get 10% of the market pool for the UK if they reach the group stage.
That pot varies in size from year to year, but, if their share were to rise proportionally with the increase in the broadcast deal, they would receive about £14.35m the season after next.
Austin Houlihan of auditing firm Deloitte told BBC Scotland the financial rewards could potentially be greater benefit than the other 11 clubs in the Scottish Premiership.
"Given the central distribution to participating clubs in the Champions League will increase from 2015/16, then it is reasonable to assume that the revenue difference will be even greater if Celtic are the recipient, for example £25m+ in central distributions could be three times the overall revenue of another Scottish Premiership club.
"Whilst Europa League distributions will also increase from 2015/16, the quantums are obviously much smaller than those from participating in the Champions League."
When asked what the extra cash would mean to Celtic, the reigning champions' manager, Neil Lennon, said: "Realistically, it would be adding a couple of players to the squad.
"You wouldn't have the benefit of doing that if you weren't in the Champions League.
"It is so important to us. In the current climate, it's meant a lot, not just to players and the board and the supporters but employees of the club as well.
"We have been able to maintain a lot of jobs here for the foreseeable future because of the revenue that we've brought in."