Tranmere Rovers: James Wallace says goal just start of injury return
Last updated on .From the section Football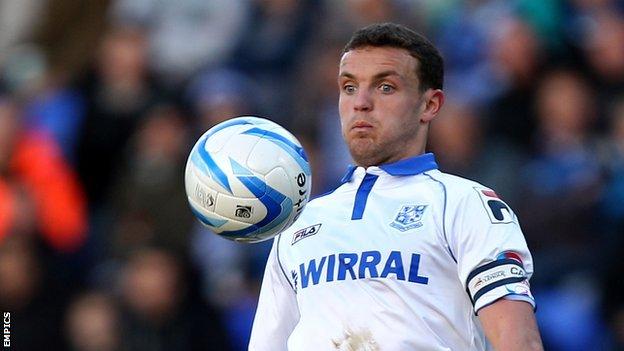 Tranmere Rovers captain James Wallace says marking his return from injury with a goal does not mean he is ready to reclaim a starting place.
"There is no better feeling than what happened," said Wallace.
"I won't be starting after the performance by the boys, and I won't be ready to start for another few weeks."
Wallace added to BBC Radio Merseyside: "It has been 11-and-a-half months of hard work and dedication and I'm delighted with the game.
"But right now I'm happy to get some minutes in the first team. I still need to get my fitness up."
The former Everton trainee, who was only expected to be out with a knee injury for six weeks after being hurt in an FA Cup tie with Chesterfield in December 2012, feared that he might never play again after a series of setbacks.
Wallace praised those around him, reserving a special mention for club physiotherapist and cousin Gregg Blundell, for helping him persevere.
"I had those thoughts [of never returning] running through my head when I went through the second surgery, but you have to keep battling through and be positive in yourself and know you will come back," said Wallace.
"Those people around me have given me that belief and confidence to do it. Gregg is family and has been working with me every day."
While his 25-yard strike on 89 minutes gave Wallace reason to celebrate, he felt the earlier tackle to win the ball was real proof that he is back.
"It means something to me because I've not played for so long and I went 100% into the tackle," Wallace said.
"After that I just hit it to be honest, hoped for best and it went in.
"It was a perfect situation for me to come back with us 4-0 up. It was a game for me to go into with less pressure than being 1-0 down or 1-1.
"You never know when you are ready and this was the perfect day. I have to thank the gaffer [manager Ronnie Moore] for putting me on."