Stephen Keshi's job as coach is safe, insist Nigeria
By Oluwashina Okeleji
BBC Sport
Last updated on .From the section Football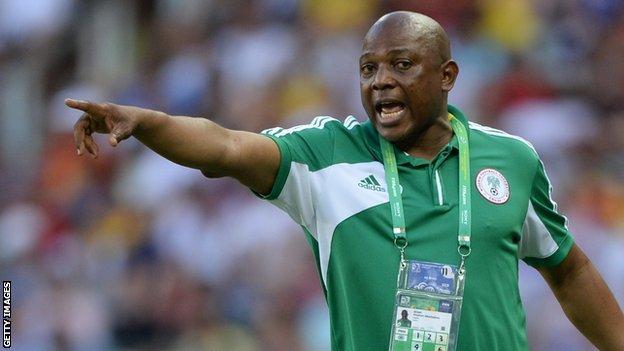 The Nigerian Football Federation has insisted coach Stephen Keshi's job is not under threat ahead of the World Cup.
Keshi, who qualified the Super Eagles for next year's tournament with a play-off victory over Ethiopia, had told BBC Sport earlier in the week that he was not concerned about his position but added that nothing was certain in football.
And having twice before missed out on the tournament after a successful qualification campaign, the former Nigeria skipper was wary of reports that a foreign coach could be brought in to assist him for the finals in Brazil.
But NFF president Aminu Maigari told BBC Sport on Thursday: "I can tell you that there is no move afoot from the NFF to remove Stephen Keshi or to bring in a foreign technical adviser.
"We are satisfied and impressed with what the coach is doing. If you have a good coach working for you, then you cannot sack him for delivering results.
"It's rather unfortunate that these stories [plan to sack Keshi and/or appoint a technical adviser] are coming from the press at this crucial moment. While we are working hard to ensure the team prepare well for the World Cup, some people are busy cooking up stories."
In 2002 Keshi was assistant to Shuaibu Amodu when Nigeria qualified for the World Cup, but the pair were sacked and replaced by Adegboye Onigbinde before the showpiece in South Korea and Japan.
Four years later Keshi experienced a similar fate when he was sacked by Togo ahead of the 2006 World Cup in Germany despite having guided them to the finals for the first - and to date only - time in their history.
An in Monday, the 51-year-old told BBC Sport: "When I was sacked in 2002 it came as a terrible shock but that is life, we all moved on because you can't keep living in anger and disappointment.
"We are talking about Nigeria here, so you never know what may happen.
"But what is important right now is that we are only focusing on what lies ahead which is preparing my players and nothing else.
"You can't distract yourself with what might happen or could happen. We've achieved beyond some people's expectations but the rebuilding exercise continues.
"I don't live in fear [of getting the sack]. To be honest, it is just a waste of energy, it is energy-sapping."
Keshi has had a stormy relationship with his employers, the Nigeria Football Federation, since leading an inexperienced side to the Africa Cup of Nations glory in South Africa at the start of 2013.
Back in February he decided against resigning from his post only hours after leading the west African country to their first Nations Cup title since 1994.
He and his assistants are owed seven months' salary and Keshi has been paid only two months' salary since he led the Super Eagles to that title 10 months ago.
Keshi feels the situation is disrespectful, unacceptable and has publicly criticised the NFF for failing to pay him his salary arrears.
While the Nigeria sports minister Bolaji Abdullahi has chastised him for taking the matter to the media, the former Togo and Mali coach has decided to focus on the task ahead.
"We have the CHAN tournament in South Africa to prepare for as well as focus on improving the team in friendlies," Keshi said.
"You have to keep looking forward. We are building a team that Nigerians will be proud of and there is still room for improvement."
Meanwhile, Keshi said he was stunned to hear top officials proposing to employ a foreign coach to assist him during the World Cup.
"I don't need any foreign technical assistance to guide the Super Eagles to perform well at the World Cup so if one is suggested I will politely reject the offer because I already have capable assistants working with me," Keshi told Nigeria's Complete Sports.
"Let them (those clamouring for it include the NFF) provide us an enabling atmosphere and requirement and we shall get the job done in Brazil. We are not saying we shall win the World Cup but we shall make an impact."