Premier League: Decisions that shaped the weekend
Last updated on .From the section Football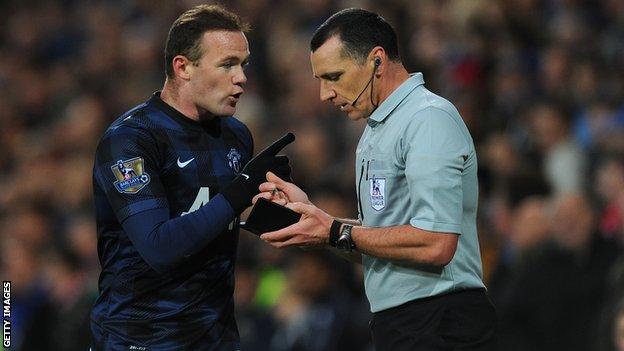 Questionable refereeing decisions were once again among the major talking points of a dramatic weekend in the Premier League.
How did the managers, BBC Sport pundits and our readers view these incidents?
Mirallas clatters Suarez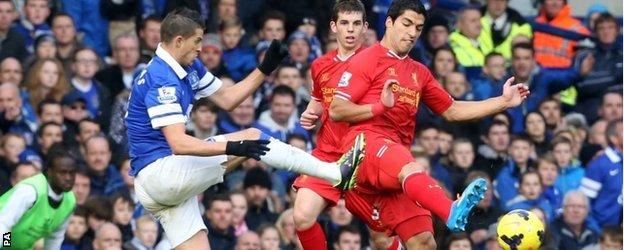 Incident: With Liverpool leading rivals Everton 2-1 in a thrilling Merseyside derby, a thunderous knee-high challenge from Kevin Mirallas left Luis Suarez bloodied but resulted only in a booking for the Toffees winger.
With the Uruguayan laid out in pain on the floor, both sets of players surrounded Phil Dowd as they waited several minutes for the referee to finally make his contentious decision to issue a yellow card.
Mirallas went on to have a hand in Romelu Lukaku's two goals after the interval to put Everton in charge. The home side were only denied in the 89th minute when Daniel Sturridge headed in an equaliser.
What they said:
Liverpool boss Brendan Rodgers: "Mirallas should have been sent off. It would have been interesting had Luis made that challenge. He caught him right on the back of his knee and that can end your career. It took Luis 10 or 15 minutes to recover and it was disappointing. Sometimes Luis rolls about a bit but gets up quickly, so I knew it was a reasonably bad one for him to stay down for so long."
Everton manager Roberto Martinez: "I have seen the replay and obviously Kevin goes for the ball with a typical striker's tackle and closes his eyes when he gets to the incident and his right leg catches Suarez. I think a yellow card, bearing in mind the emotions you bring into a derby, was the right decision. But I can see why, if that had been against my team, I would have been thinking it would have been a red card."
Match of the Day pundit Kevin Kilbane: "Phil Dowd had a very good game, but for me, Mirallas was really, really lucky. It was a bad challenge."
Chief football writer Phil McNulty at Goodison Park: "Mirallas is a very, very lucky boy. Phil Dowd took forever to make that decision - and got it wrong."
Reaction on BBC live text commentary:
Alistair Lowe: I think there are two things you can say about the booking for Mirallas. 1) it's Suarez - known for theatrics. 2) He's unsighted.
Peter Steele: How is Mirrallas not off? Suarez has holes in his leg from that!
Gareth Soye: Just how many Liverpool players and staff were advising Phil Dowd on what to do here?
Rooney kicks out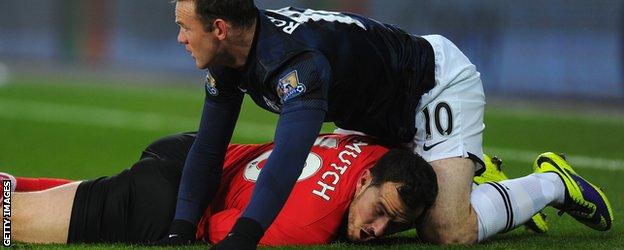 Incident: Manchester United's match with Cardiff was barely into the eighth minute when Wayne Rooney floored Jordon Mutch with a petulant kick after he failed to dribble past his dogged opponent.
Despite the protestations of the Cardiff players, referee Neil Swarbrick decided to issue the England striker with only a booking. Their anger grew soon after when Rooney put his side ahead with a deflected strike.
In a standout performance, Rooney looked to have set up United's winner when Patrice Evra headed them 2-1 ahead before substitute Kim Bo-Kyung stooped to nod in a 90th-minute equaliser.
What they said:
Manchester United manager David Moyes: "I think the boy runs across his path and was a bit of a tussle but I don't think it deserved any more than a yellow card. I think there's lashing out at times and I don't think that was a lash out in any way."
Cardiff manager Malky Mackay: "Well, I'll look at it again but on first look it certainly is a real kick at him, but maybe the booking was sufficient."
BBC Radio 5 live pundit Steve Claridge at Cardiff City Stadium: "He should have gone, he just kicked him. If the referee has seen it, and he must have as he booked him, he should have sent him off. By the letter of the law, Wayne Rooney cannot stay on the pitch."
Match of the Day presenter Gary Lineker: "Wayne Rooney is comfortably the best player who shouldn't be on the pitch."
Match of the Day 2 pundit Alan Shearer: "It was a bad tackle and it should have been a red card."
Reaction on BBC live text commentary:
Wale Ibraheem: I thought Rooney had matured... He is lucky to be on the pitch.
Austin Brock: Red card for Rooney all day long... And I'm a Manchester United fan!
Alistair Wiseman: Oh what a surprise. Should have been sent off, goes on and scores. It's no wonder people are getting disillusioned with the game.
Brown sees red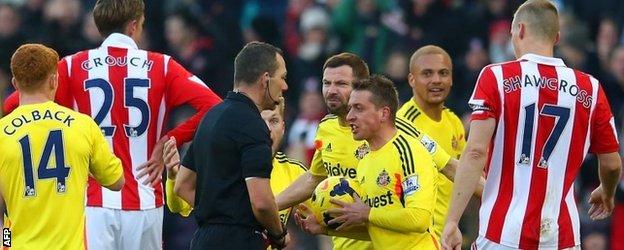 Incident: There seemed to be little of consequence when Sunderland defender Wes Brown slid in to take the ball off Stoke goalscorer Charlie Adam just past the half-hour mark.
With both sets of players carrying on as normal, referee Kevin Friend brought a halt to the game to dismiss Brown for a one-footed challenge in which he appeared to win the ball cleanly.
Black Cats manager Gus Poyet threw off his coat and gloves in anger, while his players confronted the official. Sunderland were forced to continue with 10 men and fell to a 2-0 defeat when Steven Nzonzi supplied a cool finish after a swift breakaway near the end.
What they said:
Sunderland manager Gus Poyet: "I don't think there is any explanation. Was it a two-footed tackle? No. Was he not in control? No. Over the ball? No. Was the opponent in danger? No. Did he make contact? No. Please explain me. It is difficult to accept."
Stoke manager Mark Hughes: "I'm sure Gus feels a little bit aggrieved about the red card, but my interpretation of it was that maybe Wes was a little bit out of control and a little bit reckless. At the time I thought it was a poor challenge. Whether or not it merited a sending-off, that is obviously the debate after the game."
Sunderland captain John O'Shea: "The ref's not had the best of days, has he? Hopefully the red card will get overturned."
Match of the Day presenter Gary Lineker: "The Wes Brown red card for Sunderland at Stoke is a bewildering decision."
Dion Dublin on Final Score: "Absolutely nowhere near a red card. I think the referee saw the pace that Wes Brown went into it. He did not touch the player - it was a 100% fair challenge and the referee has got it 100% wrong."
Reaction on BBC live text commentary:
Paul Rogers: Ridiculous decision to send off Brown. Only a matter of time before tackles are outlawed.
Ricky Lee Everett: Wes Brown is cursed - injuries ruined his United and England career and now this red card. Got to feel for him.
Matt: Absolutely ridiculous decision from the ref, hardly caught the player at all, never a red.
And the one that didn't...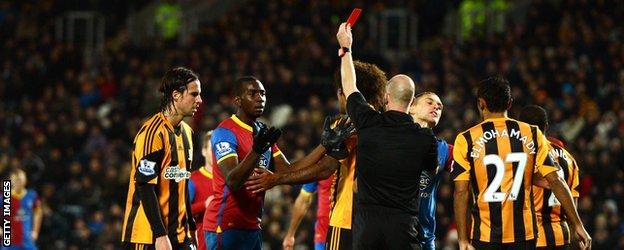 Incident: Crystal Palace winger Yannick Bolasie was shown a straight red card after putting in a badly-timed challenge on Jake Livermore on the edge of the Hull area after he stretched to regain control of the ball.
But rather than hampering Palace's chances, the dismissal by referee Anthony Taylor was to provide the catalyst for the strugglers, as Barry Bannan slotted home the winner just two minutes later, with incoming manager Tony Pulis watching on from the stands.
What they said:
Crystal Palace caretaker manager Keith Millen: "I've seen the red card and I think it's harsh. He slips into the challenge."
Yannick Bolasie:"Good win today, totally deserved. Boys dug in deep, great support again from the Crystal Palace faithful and don't worry about me, I am calm."
Match of the Day commentator Martin Fisher: "Did he slip as he went in to make the challenge? It was a soft red card, but maybe in the letter of the law it does bring one these days."
Dion Dublin on Final Score: "It cannot be a red card. If you are giving red cards for that nobody would be playing the game - the decision was 100% wrong."
Reaction on BBC live text commentary:
Jake Perry: Bolasie sent off for giving the Hull player cramp. I've seen it all now.