Brendan Rodgers: Everton's Kevin Mirallas deserved red card

By Phil McNulty
Chief football writer at Goodison Park
Last updated on .From the section Premier League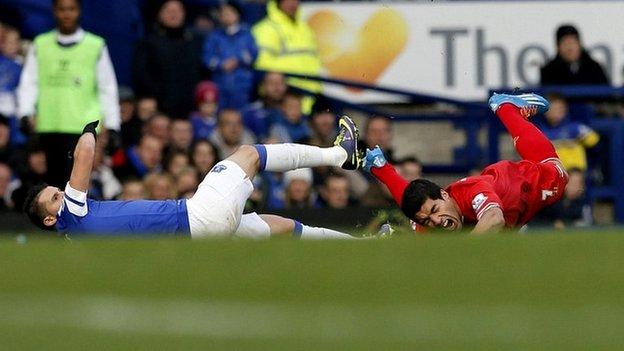 Liverpool manager Brendan Rodgers felt Everton's Kevin Mirallas should have been dismissed for a challenge on Luis Suarez in the Merseyside derby.
The forward needed lengthy treatment - but referee Phil Dowd only showed a yellow card as Mirallas scored once and created two goals in
Roberto Martinez said the tackle was "not malicious" after his first Merseyside derby as Everton boss.
But Rodgers said: "Mirallas should have been sent off."
The 40-year-old added: "It would have been interesting had Luis made that challenge. He's just caught him right on the back of his knee and that can end your career. It took Luis 10 or 15 minutes to recover and it was disappointing."
Daniel Sturridge's 89th-minute equaliser gave Liverpool a point after Philippe Coutinho and Suarez had twice put them ahead, with Mirallas helping Romelu Lukaku score twice for the home side.
Rodgers added: "Kevin Mirallas is a really honest attacking player and sometimes attackers make those challenges that are poor and that was a really bad one.
"I thought it was a brilliant game. We don't want to see players sent off and it was 11 v 11 and great attacking end-to-end stuff but if someone should be sent off then that's what should happen.
"Sometimes Luis rolls about a bit but gets up quickly, so I knew it was a reasonably bad one for him to stay down for so long."
Martinez, who became a father for the first time on Friday after his wife game birth to daughter Luella, defended Mirallas.
He said: "I can see why Liverpool might think that. I have seen the replay and obviously Kevin goes for the ball with a typical striker's tackle and closes his eyes when he gets to the incident and his right leg catches Suarez.
"I don't think it is a red card because it is not a malicious incident, he tries to win the ball but gets there late.
"I think a yellow card, bearing in mind the emotions you bring into a derby, was the right decision. But I can see why, if that had been against my team, I would've been thinking it would have been a red card."