Ben Davies admits Swansea not playing well ahead of Fulham test
Last updated on .From the section Football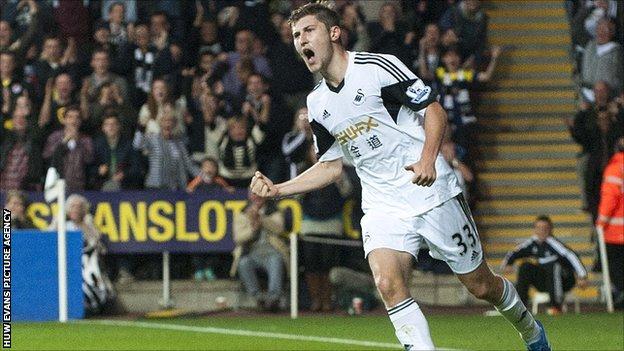 Full-back Ben Davies admits Swansea City have struggled at times during this Premier League campaign.
The Swans resume their Premier League campaign with an away trip to face Fulham on Saturday.
Wales defender Davies admits Swansea, who won the Capital One Cup and are in the Europa League, have not hit the heights which earned them a host of admirers when they were promoted.
"In some games we haven't been as good as we have been," said Davies.
"Then again, the expectations are a lot higher this season because of what we have achieved in the past.
"It is always going to be difficult to maintain where we were, but we know as players we haven't quite reached our best yet.
"We are doing everything we can to get there."
Despite Davies' concerns, Swansea are just one point behind the tally they had this time last season in the Premier League and they are also on the verge of an Europa League quarter-finals place.
Davies, 20, has just returned to full fitness after missing three games with an ankle injury sustained in the 4-0 victory over Sunderland in October.
He returned to the Swansea side in the 1-1 draw with Russian side Kuban Krasnodar in their Europa League Group A clash.
While Davies admits the Swans are struggling to match last season's performances, he believes it's a positive that they are in a similar league position to where they were last season.
"A lot of people look at the negatives of it, but we haven't reached our best and aren't far off where we were last year," said Davies.
"People said we had a good season last season... so there is no reason to be too down about where we are this season."
Davies, who has won nine Wales caps, admits the Swans' recent success means there is a greater expectation on the side.
"We caused that for ourselves because we did so well last season and the year before," said Davies.
"It's not something we are disappointed about because we have those expectations ourselves.
"We don't look at it as a burden on us."
Michael Laudrup's side travel to face a Fulham side they have beaten twice at Craven Cottage in the last two years and who are in the Premier League relegation zone.
Davies claims the Welsh side should travel with confidence to London on Saturday.
"We have won two seasons in a row there," said Davies.
"So we can go into the game quietly confident and hopefully we will pick up three points.
"We are going into the game looking to get three points and it is up to us to put in a performance there and get that."