Borussia Dortmund v Bayern Munich: Can hosts stop rivals?
By Ross Dunbar
German football writer
Last updated on .From the section European Football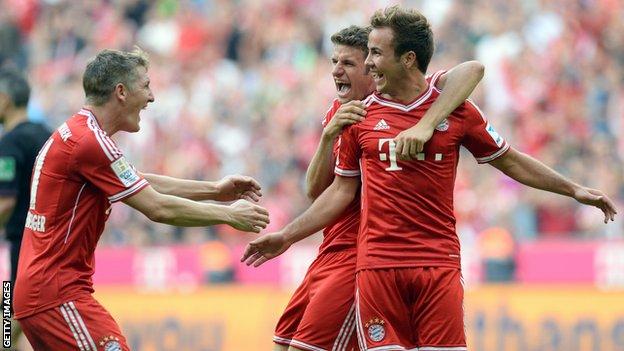 For Borussia Dortmund fans, it was the ultimate body blow.
Seven months on, the first chance to see Gotze back at Signal Iduna Park, wearing the red of Bayern rather than the yellow of Dortmund, offers an intriguing sub-plot to the latest instalment of Der Klassiker.
Bundesliga leaders Bayern travel to injury-hit Dortmund on Saturday, with Pep Guardiola's side four points clear of their hosts and the winter break fast approaching.
That creates the perfect backdrop for the clash between Germany's top two sides, in front of more than 82,500 fans and an expected TV audience of more than 150 million.
All eyes will be on Gotze, whose summer transfer was emblematic of modern German football - and who has belatedly begun showing glimpses of his old form.
Reared in Dortmund colours from the age of nine, the 21-year-old's rise to prominence symbolised the incredible development of the Ruhr giants under Jurgen Klopp's management; an inspiring title success in 2011 followed by a domestic double in 2012.
To place his departure in context, Robin van Persie's switch to Manchester United handed a similarly crushing blow to Arsenal's ambition to become England's leading lights.
Signing their main rivals' best player appeared an astute move by Bayern, who saw Dortmund's rise as a serious threat, and it was one they may well repeat; striker Robert Lewandowski looks set to follow Gotze in the coming months, with a pre-contract agreement expected to be struck in January ahead of a summer transfer.
It's easy to see why an intense rivalry has emerged between the two Bundesliga giants who pride themselves on distinctly different ideologies and strategies.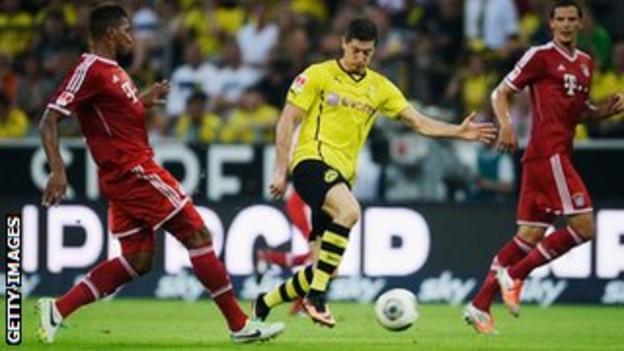 Gotze, born less than an hour from Munich, was Bayern's biggest summer capture but groin problems in pre-season prevented a smooth transition to the record German champions.
Sporadic appearances in an ever-evolving Guardiola system led to little impact, until he inspired Bayern's second-half comeback against Mainz last month; the German providing some verve to lay on two goals within 10 minutes.
And following goals against Viktoria Plzen and Hertha Berlin, the classy midfielder looks to be one of the more potent weapons in Guardiola's plethora of attackers.
Given the form he is in, there isn't a better moment for Gotze to return to his former home, against fans who will, predictably, be baying for blood.
After taking over from treble winner Jupp Heynckes, Guardiola was criticised early in his tenure as Bayern stuttered to victory.
But the Spaniard looks to be over the bedding-in period and is striving for perfection, with the Bavarians beating Hamburg's all-time unbeaten run of 36 Bundesliga matches earlier this month.
There is a growing feeling that if anyone is to stop the Bayern juggernaut, it is Dortmund.
They have worn the underdog tag, almost as a badge of honour, since daring to challenge Bayern's dominance at the top table of German football.
But their preparation for welcoming Bayern on Saturday has been a serious challenge of their credentials.
Defeats by Arsenal and Wolfsburg in the week prior to the international shutdown came at an inopportune time, but Klopp has more pertinent concerns.
On Wednesday, he signed 34-year-old Manuel Friedrich on a free transfer to ease fears of a defensive crisis, with Neven Subotic, Mats Hummels and Marcel Schmelzer sidelined.
Even established right-back Lukasz Piszczek has only recently returned to full training and his absence would leave Klopp without all four of his starting defenders from May's Champions League final at Wembley.
Off the field, CEO Hans-Joachim Watzke has confronted a rogue element of the club's support - withdrawing season tickets from some prominent Ultra groups - and eliminating a small-scale return of right-wing extremism on the Sudtribune, Dortmund's imposing terracing block.
Quite a contrast to Bayern's serene build-up to Saturday's game.
But short-term success is not mandatory on the Dortmund agenda; their plan is sustaining a long-term challenge to Bayern.
The financial gap is still evidently insurmountable, with a difference of more than 125m euros in their respective turnovers last season, as both clubs reached the pinnacle of European football.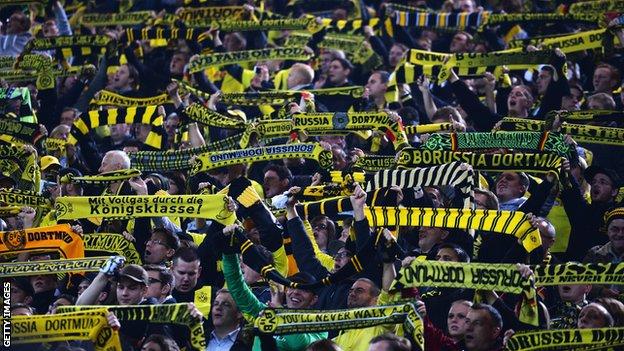 And, realistically, Dortmund will not return to the heights of last season for some time.
It seems almost comedic to paint the caricature of lightweight Borussia Dortmund against the gargantuan beast of Bayern Munich, like pitching the 5ft 7in Ricky Hatton against 7ft Russian Nikolay Valuev in the boxing ring.
Yet with three key defenders on the injury list, the scars of their congested schedule are beginning to show. Eyes blackened, one final knockout punch from Bayern this weekend could put an end to their title hopes.
But for Klopp, defeat is certainly not the end of the world. Dortmund would be quite content with a top-three finish in the Bundesliga, with the lure of securing another shot at the Champions League.
For the neutral - and to prevent a long-term monopoly, the antithesis of what the Bundesliga has grown to represent - the Dortmund 'fairytale' needs an inspiring chapter written on Saturday.