South Africa revel in friendly victory over Spain
Last updated on .From the section Football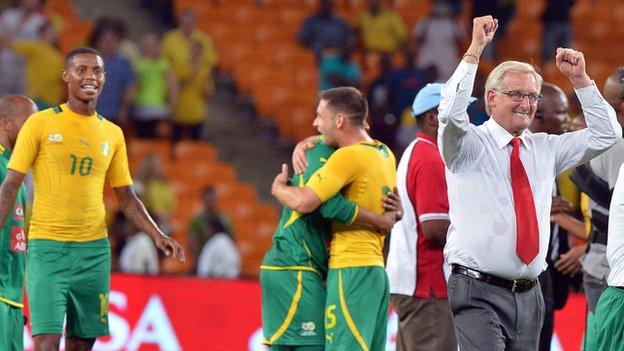 South Africa coach Gordon Igesund has hailed his side's attitude after they beat Spain 1-0 in a friendly in Johannesburg on Tuesday.
A goal in the 56th minute by striker Bernard Parker saw off the World and European champions.
And Igesund believes Bafana Bafana, who failed to qualify for next year's World Cup in Brazil, are improving.
"We've been on track for a while. The performance was a culmination of the hard work we've put in," he said.
"The players did well and stuck to the game plan. But we should not get carried away and keep our feet on the ground because there is still a lot of work to be done, and we should continue working as hard as we have been doing.
"Our vision remains the 2015 and 2017 Africa Cup of Nations qualifiers as well as the 2018 World Cup in Russia. I believe my players were tactically very good and fought very hard. I still believe we could have finished the game off earlier had we taken all our chances."
The match was billed as "The Champions are Coming" and was used for Spain to return to the scene of their 2010 World Cup triumph where they lifted their first world title. But South Africa spoiled the celebration for the visitors.
"On a personal note it's always good to win a football match it doesn't matter if it's Swaziland or Spain, they are all important matches," added Igesund.
"Winning brings confidence to the team and to the nation but tonight was a very special night because we showed that we can match the best."
When Spain coach Vicente Del Bosque was asked by Spanish television broadcaster Cuatro if it was the country's worst performance in recent times, he replied: "It could be. I think we can even say the defeat was well deserved.
"We started well but little by little they started to open us up and we allowed them time to counter attack.
"We came out with good intentions and fought to the end to find an equaliser so I can't complain about the players' attitude," added Del Bosque.
"They (South Africa) got better as the game went on."