Sven-Goran Eriksson, the 'Little Genius' and the 'wrong woman'
Last updated on .From the section Football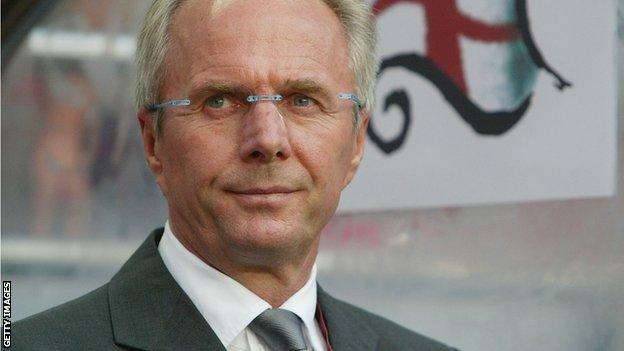 It seems strange to say it now, but there was a time when Sven-Goran Eriksson was famous for being a football manager.
This, of course, was before we knew about Nancy, Ulrika, Faria, Roxy, Graziella, Malin, Debora and "the other women" Eriksson casually mentions in Sven: My Story, his picaresque account of life as an international playboy and football coach.
But back then, before he became a full-time celebrity, the relationships the Swede was best known for were with Roberto, Marcelo, Pavel, Juan and Michael, because for three decades Eriksson coached some of the greatest footballers - and the best teams - of the modern era.
As you may have noticed, Eriksson was recently in a newsroom or studio near you plugging his book with as much gusto as a jet-lagged 65-year-old could muster - and he passed through this one, too.
He had just arrived in the UK from China, where his 17th job in football management (across nine countries) has him pulling the strings at Guangzhou R&F.
So, Sven, just to warm up, how are Guangzhou R&F doing?
"Ah, well, the season finished yesterday," he said wearily (this was his fifth interview of the afternoon, and a colleague was loitering for number six).
"There was one game to play. I don't know if we finished fifth or sixth. So that's good."
It was sixth, Sven, 37 points behind local rivals Guangzhou Evergrande, so that's OK, although a little concerning you did not know where your team finished - there are managers of pub teams who can reel off Opta-like possession stats for their left-back these days.
Perhaps this Chinese adventure, worth a reported £2m a year, will be no more substantial than any of the other seven jobs Eriksson has held since losing the England gig, but let's move on to more exciting ground.
Who was the most skilful player you ever worked with, Sven? One who would take your breath away in training?
"[Roberto] Mancini must be one of them," he said, leaning forward and sounding a lot more awake. "I had him as my captain at Sampdoria and brought him to Lazio.
"He was very important to his team. He'd phone the kit man, take training, organise travel. And what he could do with a ball. Wow.
"But I had one for a year, [Fernando] Chalana, you won't remember him…"
He trailed off, and sat back in his chair. Was this reminiscence more than just a fleeting memory?
I pushed on. Where was it, Sven? "Benfica - but he met the wrong woman," he said, without a flicker of self-awareness.
The wrong woman? "Yes, absolutely," he continued, matter-of-factly. "He went to Bordeaux after that, when they had a great team, but he never did it there and that was that. He had injuries."
And that was that, for Chalana and the anecdote.
Hold on a moment. This guy was a rising star from a small country who made a big move that did not quite pan out because of bad luck and woman trouble, leading to a slow decline - who are we talking about here?
Beloved at Benfica, bemoaned in Bordeaux, Chalana's story is far more than a thinly stretched metaphor for Eriksson's career. He is Portugal's answer to George Best or Paul Gascoigne: that hoary old cliche, the flawed genius.
"Years before Futre, Figo, Simao, Quaresma, Ronaldo or Nani, Chalana is regarded as Portugal's first truly great winger," says Portuguese sports journalist Rui Catalao.
"He was also the typical Portuguese man of the 1980s: short, with a big moustache. Many people used to call him 'Asterix', or 'Chalanix', along with 'Pequeno Genial' (the Little Genius)."
His legend is based on a fine body of work between 1976 and 1984. Capped at 17, the winger's mazy dribbles and pinpoint crossing would help Benfica win five league titles and three cups by the time he was 25.
But it was at the 1984 European Championship in France that Chalana would really scale the heights as he helped Portugal reach the semi-finals. There they would face the hosts; what followed was one of the greatest games in history.
In an end-to-end contest, Chalana provided the assists for Rui Jordao to first force extra time at 1-1, and then give Portugal the lead.
As BBC commentator John Motson put it: "This little pocket genius provides another cross that cuts out every defender."
When France equalised with six minutes left, penalties seemed inevitable. And then, with 90 seconds to play, Portugal broke forward. Chalana tried to slip a pass inside, but Luis Fernandez intercepted it on the edge of the area.
Chalana clapped his hands in frustration. And well he might, because the moment before that pass was the height of his career.
Fernandez surged forward and picked out Jean Tigana. The midfielder glided into the area, where his cut-back was collected by Michel Platini and slammed into the net. It was his eighth goal in four games and he would get another in the 2-0 win over Spain in the final.
"Platini was the star of the competition, but there's no doubt Chalana was right next to him. He was as good as anyone else at the time," says Catalao.
The French had seen enough. Bordeaux's ambitious president Claude Bez shelled out £2.3m on the man who had nearly derailed Platini and co.
In France he would now be playing with four of the stars of the European Championship-winning team - Patrick Battiston, Alain Giresse, Bernard Lacombe and Tigana - and Bez hoped "Chalanix" would turn his French champions into indomitable Gauls.
He nearly did it. In a stop-start first season he helped Bordeaux to the semi-finals of the European Cup. They would lose 3-2 to Juventus on aggregate, and the Italians would progress to the final against Liverpool at Heysel, a dark and fateful occasion.
Chalana was never the same again, though. Constantly injured, at odds with the club's doctors and homesick for Benfica, he would return to the Estadio da Luz in 1987, but he had lost his sparkle.
Eriksson, in the meantime, was building his reputation for understated but effective football at Roma and Fiorentina. There was only a Coppa Italia with Roma in 1986 to show for his efforts, but he was winning admirers in Serie A, on and off the field as we now know, for his cool professionalism.
He and Chalana would be reunited in 1989, however, when Eriksson returned for a second stint at Benfica. He would see now for himself the damage the intervening years had done to his favourite winger.
In an interview with Portuguese newspaper A Bola, Chalana said he had nothing to say about Eriksson "as a coach, but he failed me as a man", claiming the manager made him train on his own.
"He said my ex-wife was the reason I didn't go further," Chalana added. "Like he can talk!"
The "Anabela" story, like Sven's own Casanova capers, may hold some water, though.
"It's true. She turned his head, spent his money. He was never the same again," says Fernando Eurico, a reporter for radio station Antena 1.
Catalao confirms Anabela's outspoken nature made them gossip-column favourites at a time when he should have been concentrating on his football.
"Anabela was a source of news for journalists and of trouble for her husband," says Catalao.
But Portuguese football expert Ben Shave sees Chalana more as a victim of his times.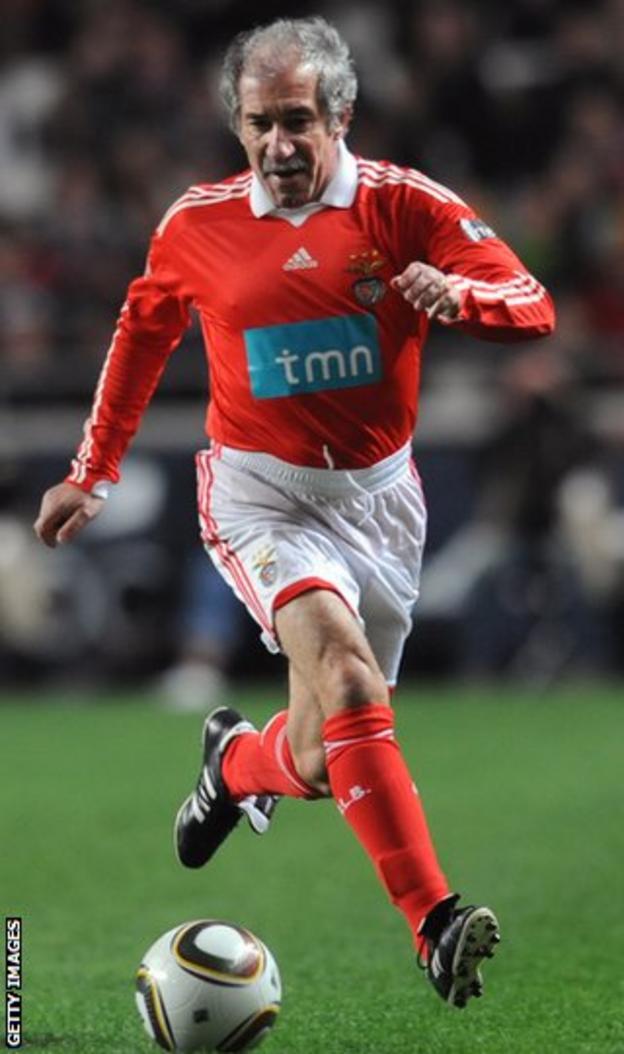 "He was probably born slightly too early," says Shave.
"When he started, Portugal was just emerging from years of dictatorship, which basically vetoed any moves abroad, and that mind-set was still strong in the early 1980s.
"But Chalana going to France laid the foundations for others to venture outside the country. Players like Rui Barros, Figo and so on.
"If Chalana was five years younger, with more protection from referees, who knows what would have happened?"
Chalana finished his playing career in Portugal's second tier at Estrela Amadora in 1992. He had left Benfica in 1990, the year Eriksson took the Lisbon giants to the final of the European Cup. They would lose that game 1-0 to a famous AC Milan line-up, but go on to win another Portuguese title a season later.
With his stock high, Eriksson would return to the best league in the world, Serie A, in 1992. Chalana was moving into coaching, too, eventually becoming a coach at Benfica's academy and an assistant to the first team's manager.
He even had short stints as caretaker manager in 2002 and 2008, but is now back coaching the club's youngsters.
Chalana remains a popular figure with Benfica's fans, as does Eriksson, but his is a life led far from football's spotlight, much like his former manager's in China, but without the side-line in tabloid scandal.
Nancy Dell'Olio, Eriksson's official consort during his time in England, was on ITV's This Morning recently, defending her good name and rubbishing her former boyfriend's book.
She had not read it, sadly, but she has definitely got its number.
"He was one of the best managers in the world, but people are not interested in Sven the football manager," she said.
Returning to the interview and listening to Eriksson trying to justify his decision to play Paul Scholes on the left side of England's midfield, lament his bad timing at Manchester City and explain what went wrong at Leicester City, it was hard to avoid the sad truth about Sven's story: even the wrong woman can be right some of the time.