FA Trophy: Colwyn Bay v Altrincham to be replayed
Last updated on .From the section Football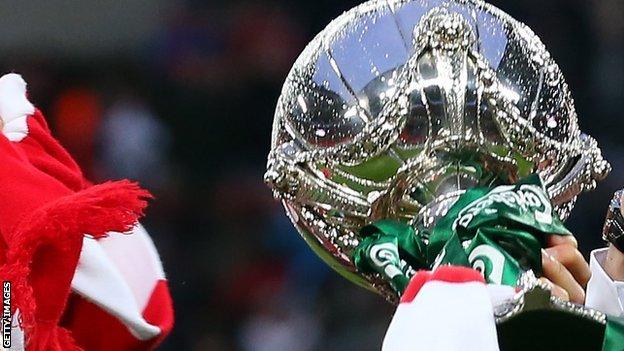 The Football Association has confirmed that Saturday's abandoned FA Trophy tie between Colwyn Bay and Altrincham will be replayed in full on Tuesday.
The first attempt to stage the game was with Altrincham leading 2-0, when referee Mark Ackerman suffered an injury.
Colwyn Bay rejected two alternative officials that were put forward.
The winners of the rescheduled tie will host either Brackley Town or Leek Town in the first round proper.
There was no designated fourth official available on the day.
A qualified referee in the crowd offered to complete the game but the home side rejected that as a possible solution to the problem, claiming he had been drinking alcohol.
An offer from Altrincham coach Ian Senior to run the line was also turned down.
Speaking to BBC Sport after Saturday's abandonment, Altrincham chairman Grahame Rowley said he hoped the result would stand.
Meanwhile, Colwyn Bay boss Frank Sinclair told BBC Radio 5 live's Non League Show that his club were "within their rights" not to complete the match and that he expected the game to be replayed.