Chile making mark as a Bielsa team after win over England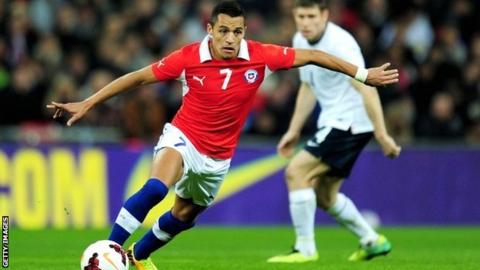 Alexis Sanchez trod in the footsteps of Marcelo Salas with his two goals to beat England at Wembley on Friday night.
Salas scored his Wembley goals - also a 2-0 win - in a warm-up game for France 98, a tournament at which he once more gave evidence of his quality and where Chile had their moments.
They made it out of their group but they did not win a single game, going down to Brazil in the second round after three consecutive draws.
The current Chile side under Jorge Sampaoli are capable of better things, and not just because the 2014 World Cup is on their home continent.
The 1998 side had quality - Salas and Ivan Zamorano were backed up by an excellent playmaker in Jose Luis Sierra. But the new-model Chile have something else in addition to individual talent; they have a collective identity.
It was all there in the early goal that shaped the way Friday's match unfolded. A pass from Marcelo Diaz in central midfield picked out Mauricio Isla rampaging forward from right-back.
His early cross behind the line caused problems for the England defence, who managed to block the shot from Charles Aranguiz after Sanchez had laid the ball back to him. But Jean Beausejour invited Eugenio Mena forward from left back, and his cross was headed home by Sanchez.
It is a goal that has the imprint of former coach Marcelo Bielsa all over it. Bielsa's three-and-a-half-year spell in charge of Chile, between 2007 and 2011, has proved a game-changer.
In 2004, then still in charge of his native Argentina, Bielsa's side lost the final of the 2004 Copa America to Brazil.
Argentina had been on top for the entire match, but conceded an equaliser with the last kick of the match, and, wandering around with the dazed air of men sleepwalking through a nightmare, were beaten in the penalty shootout. It was a painful defeat.
True to form, though, the eccentric football obsessive Bielsa, who is also a former coach at Athletic Bilbao, did not react to it in a conventional manner. He dedicated his post-match media conference to the theme that "4-3-1-2 is not the only way to play football".
His thinking was based on the idea that, in a team looking to attack, the conventional full-back was a waste of a player. If his team were to impose their game on the opposition, both full-backs should be able to advance simultaneously.
The goal that so nearly won that 2004 Copa was a case in point - a cross from right-back Javier Zanetti was laid off by left-back Juan Pablo Sorin for winger Cesar Delgado to shoot home.
Nine years on, and the attacking contribution of Isla and Mena to Chile's first goal comes straight out of the same book.
Bielsa took charge of Chile in August 2007 - an opportune moment. A splendid generation of youngsters had just reached the semi-final of the World Youth Cup in Canada. Sanchez, Isla, Gary Medel and Arturo Vidal soon became stalwarts of the senior side as Bielsa sought to plant the seeds of his ideas in such promising soil.
The coach had come to the right place. When he was in charge of Argentina, Bielsa had always been swimming against the tide. The old fashioned number 10, the foot on the ball playmaker, is a huge part of Argentine footballing culture.
Juan Roman Riquelme was a perfect exponent. But Bielsa had no place for him.
He did not want the pause that Riquelme could supply. Instead, he sought tempo - frenetic, high-rhythm football that smothered the opposition in their half of the field.
This approach, and its obsession with attacking width, was seen by many in Argentina as too European - indeed, there is a strong Dutch influence on Bielsa's thinking.
And as soon as Bielsa stepped down as Argentina coach in 2004, Riquelme was straight in the side. Normal service had been restored.
In Chile, there were no such barriers. The country's great defender Elias Figueroa told me back in 2004 that one of the problems with Chilean football was its lack of fixed identity.
"We've tried to imitate Argentina," he said. "We've tried to imitate Brazil. We've tried to imitate Germany and Spain. There's been no continuity."
All this was a blank canvas for Bielsa. And in Chile his ideas did not come across as a foreign imposition. Rather, his emphasis on speed and width worked well in a country that produces lots of quick players with a low centre of gravity.
During his time in Chile, Bielsa kept himself aloof from the club game but his ideas sold themselves. Observing the success of the national team, Chilean clubs fell over themselves to appoint Bielsa clones. Indeed, one local coach moaned recently that in Chile sitting down for a barbecue with Bielsa was enough to be given a good job.
Not too many others are moaning.
Under Sampaoli, a self-confessed Bielsa disciple, Chile have become South America's form side. The generation reared by Bielsa are now coming into their prime. English fans may have been impressed with Chile's performance at Wembley. The truth is, though, that Sampaoli's side are capable of better.
They are also capable of leaking goals, however. At Wembley they could have been two down in the first five minutes. One of the things that makes their bold approach so fascinating is that they can leave themselves open.
The supreme test of Chilean audacity is provided by Brazil - who not only ended the World Cup dream of the Salas side in 1998 but also eliminated Chile from South Africa 2010 - as well as giving the Bielsa side two heavy defeats in qualification. Each time Chile were unable to cope with the pace, power and skill of the Brazil counter-attack.
And now, on Tuesday in Toronto, the sides meet again. Once more Chile put themselves on the line. Brazil, 5-0 winners against Honduras on Saturday, are in ominous form. Against Neymar and company, will Chile be bold enough to throw both full-backs forward at the same time?
Send questions on South American football to vickerycolumn@hotmail.com, and I'll pick out a couple for next week.
From last week's postbag;
You've mentioned before that Brazil could do with having its own "Premier League moment" that English football witnessed in 1992. Do you think anything will change after the protests last week by players in the Brazilian league? Or will it eventually run out of steam due to the powerful vested interests of those running the game there? It's hard to see the powers-that-be voting for change but it seems as though this could be the start of something major. Daniel Stirrat
The protest of the players - a wonderful and inspirational development - is aimed primarily at improving the calendar of the Brazilian game, which sacrifices the interests of the players with too many meaningless games. But it also sacrifices the interests of the big clubs, who are forced to play endless games against tiny opponents in the obsolete State Championships. It is striking that the clubs are not taking a position on the protests.
Last week, for example, Flamengo announced extraordinarily expensive prices for the final of the Brazilian Cup. One of the justifications was that they make next to no money during the months of the State Championships. It is a confession that they are locked into a structure that is not in their interests. The stance of the clubs is key to change - hopefully the protests of the players will shame them into action.
Julio Cesar on his day is a world-class goalkeeper and many top clubs were interested in him. Will Scolari still back him as his first-choice goalkeeper for Brazil for the World Cup despite Cesar not playing enough, if at all, for Queen's Park Rangers? Do you think Cesar has hindered his chances of playing the most prestigious tournament in football in his home nation by not leaving QPR in the summer? Rian Hoskins
He hasn't blown it yet. Scolari made a point a couple of months back of saying that Julio Cesar will definitely be in the World Cup squad. But he can't guarantee a first-team place if he is not playing regularly. The keeper will surely be on the move - even if it is only a short-term loan - in the next transfer window.