Terry Yorath: Former Wales manager's Romania '93 memories
Last updated on .From the section Football
Sunday 17 November marks the 20th anniversary of Wales' infamous World Cup qualifying defeat against Romania, which denied them a place at the 1994 finals in the United States.
Manager Terry Yorath recalls a night which is still remembered by Welsh football fans as well as his memories of an eventful qualifying campaign.
It was a campaign touched by tragedy. Yorath's 15-year-old son Daniel collapsed and died during a kickabout with his father, while Wales supporter John Hill was killed by a marine distress flare at the end of the final game against Romania.
Wales began their campaign as they would end it - with a defeat by Romania.
Romania away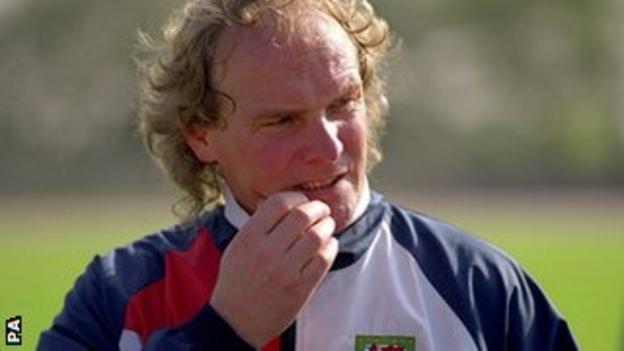 "I'd seen Romania play three or four times before the actual game," said Yorath. "They played with two wide men and one down the middle. Normally we would play three at the back and I thought if we played three at the back against one striker, it would be a waste of a man. So I only played with a flat back four.
"I paid for it. The defending was poor. We were five [goals] down at half-time. Peter Shreeves [assistant manager] was stood behind me and I said to Peter: 'What shall I say to them?' He said: 'You're the manager.'
"We won the second half but I knew the players were blaming me for the tactics we adopted and rightly so. I should have kept it to where we were comfortable and I didn't."
Losing son Daniel
"It was a devastating blow," Yorath said of the death of his son in May 1992. "It was a red-hot day and he was pestering the life out of me to play golf or do this or do that. In the end I gave in and went and played football in the garden and he just keeled over.
"I can honestly say you don't cope. In my case it was turning to a bottle of Scotch and having a drink of whisky and just going to bed. I slept on his bed for ages and went up to the cemetery so many times late at night. But in a way football let me get over that. It was something that was there that I loved all my life."
Wales' campaign resumed in September of that year, with Ian Rush scoring a hat-trick in a 6-0 home win over the Faroe Islands before a Mark Hughes header secured a 1-0 win in Cyprus the following month.
Yorath's side lost 2-0 in Belgium in November before the return match in Cardiff the following March, which saw Ryan Giggs start his first game for Wales - and play a key part in a 2-0 victory.
Belgium home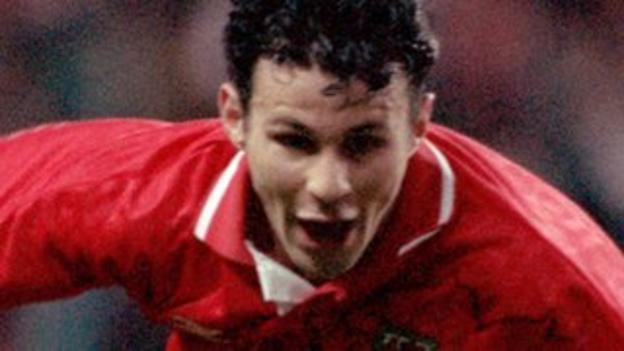 "That turned the group around for us. Ryan played, and scored a great free-kick. Everyone knew what Ryan could do - except Alex Ferguson wouldn't let him play for us. He was a special talent, really special."
After drawing 1-1 against the RCS - the combined Czech and Slovak side following Czechoslovakia's "velvet divorce" - Wales travelled for an end-of-season qualifier against group minnows the Faroe Islands. Wales won 3-0, but Yorath will never forget the eventful journey.
Faroe Islands away
"It's not the best place to go and play a football match," he said. "We tried to land twice and it was foggy. Either side of where you land there are two mountains, and the plane has to go through the two mountains and I couldn't see anything out of the window.
"[The pilot] tried to land, took off again and he came on the radio and said: 'We're going to give it one more try.' I remember Dean Saunders, who was always good for a laugh, with a lifejacket running down the plane with a stewardess chasing him.
"The stewardess came on and said: 'We're going to Bergen [in Norway], we've got three-quarters-of-an-hour of fuel left and it will take us one hour to get to Bergen.
"Then the pilot came on and said: 'She's got that wrong. We've got one hour's fuel and it will take us three quarters of an hour to get to Bergen.' Thank God we did."
Wales would conclude their campaign with three home games. They were held to a 2-2 by the RCS in September before a 2-0 victory over Cyprus a month later.
RCS and Cyprus at home
"The game against the Czechs, we should have won it," Yorath said. "We were 2-1 up. We got the point. [We had] tremendous crowds. When you think of Cyprus, there were 30-odd thousand there. We managed to get ourselves back into it. If we hadn't beaten Cyprus, I think I would have lost my job that night. That all set it up for the Romania game."
Victory over Cyprus set up a final match against Romania, led by the influential midfielder Gheorghe Hagi, at a packed National Ground in Cardiff. Wales had to win by two goals to be certain of qualification, but any kind of victory would be enough provided the RCS did not win in Belgium on the same evening.
Romania home
"They were a very good side but that didn't mean we couldn't have beaten them on the night," Yorath remembered.
"I made a mistake really. Before the game, I meant to tell the players that once Hagi drifted across to the right-hand side he liked to come in on his left foot. And he did that and hit a shot, and really it was a timid shot.
"Nev [Neville Southall] should have done better. I thought he could have done better. It went underneath his body into the back of the net and we were up against it then. We had to get back into the game, which we did do."
Dean Saunders equalised for Wales, who were then awarded a penalty when Gary Speed was upended in the penalty area. Up stepped Paul Bodin...
The penalty miss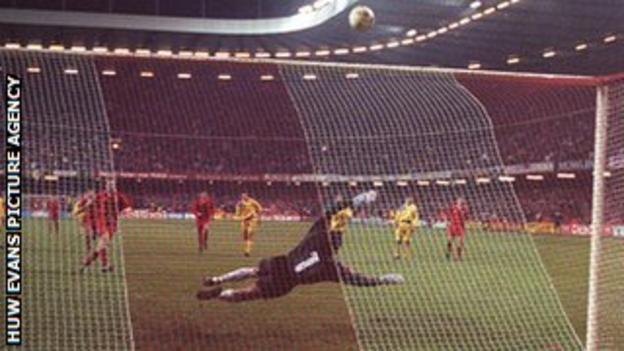 "As soon as we got the penalty I thought: 'This is it, we're going through,'" recalled Yorath. "I remember looking at it and 10 minutes before the penalty and thinking: 'Paul's not playing very well, I'll bring him off, put Gary Speed at left-back and bring another attacker on.'
"I didn't, so we ended up getting the penalty and he takes it. Unfortunately for Paul, he will always be remembered for that penalty hitting the crossbar.
"That penalty defined my career. All hopes and aspirations about going to America for the World Cup flew out of the window when he missed that."
After Bodin's penalty miss, Florin Raducioiu added a second for Romania and Wales' World Cup dreams were over. The defeat was put in perspective when Welsh fan John Hill was killed after being hit by a marine distress flare.
The game would also prove to be Yorath's final game in charge, with the Football Association of Wales deciding not to offer him a new contract.
The aftermath
"I went back to the hotel that night and cried," he said. "I knew, both as a player and manager, I'd probably been as close as I could be to getting to a World Cup finals. I knew it wouldn't come round again and that was the worst aspect of it.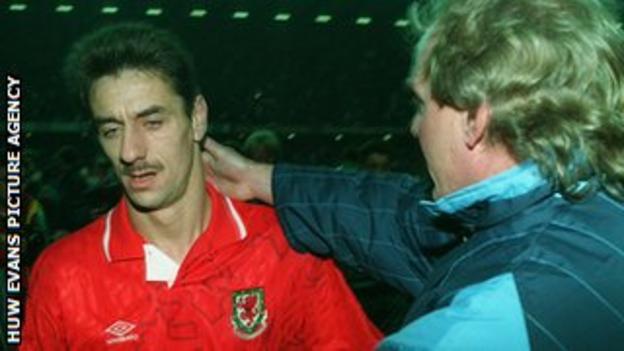 "I'd done my press conference and one of the press men said [someone had died]. I had to walk to the other side of the ground to meet up with family and friends.
"I got over there and went straight up to a policeman and said: 'Has somebody died?' And he said: 'Yes, someone fired something from the other side of the ground and hit him in the chest and he died on the spot.' That is a tragedy - you go to a football match and don't go home.
"I never ever thought they [Football Association of Wales] were going to get rid of me. I thought I had done enough to keep my job. The way it went about was shocking. I loved doing it. I still wish I was there."