Cautious Tottenham face title struggle, says Robbie Savage
Last updated on .From the section Football

In his regular BBC Sport column on football tactics, Robbie Savage looks at Tottenham's goalless daw at Everton.
Some people might argue that this was a good result for Spurs: they moved level on points with second-placed Chelsea after keeping a clean sheet and drawing away from home, against another team that is in touch with them near the top of the table.
But, if they are serious about winning the title, then Tottenham have got to win these sort of tight games.
With their team selection and tactics against the Toffees, they did not try hard enough to do that.
Spurs have conceded just five goals in 10 league games this season, but they have only scored nine themselves. Being so tight at the back will only take them so far - and it is their lack of goal-threat that will hold them back.
Clean sheets come at the cost of creativity
Looking at the team sheet before kick-off, it appeared Spurs boss Andre Villas-Boas had set up his side in his usual way - a 4-2-3-1 with two holding midfielders and three players trying to support the lone striker, Roberto Soldado.
But in the first half, Tottenham's formation was actually more like a 4-1-4-1, with only Sandro holding and Paulinho, who usually operates alongside him, getting into more advanced positions.
Average player position after 30 minutes

Everton

Tottenham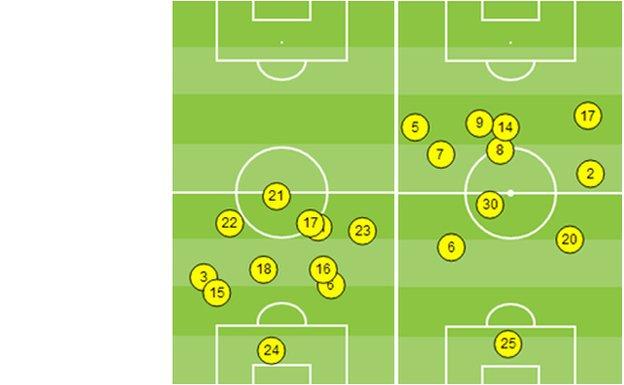 Key

Everton

Tottenham

21: Leon Osman

9: Roberto Soldado

17: Romelu Lukaku

8: Paulinho

18: Gareth Barry

5: Jan Vertonghen
Their full-backs, particularly Jan Vertonghen on the left, were getting forward too, along with Aaron Lennon and Andros Townsend, who joined Paulinho and Lewis Holtby behind Soldado.
Everton were on the back foot and could not impose themselves on the game - before the break, Spurs had 58.3% of the possession.
This was not a cavalier approach from Villas-Boas, however. Far from it.
Even though Tottenham were seeing more of the ball, getting more men forward and playing the game in Everton's half to force the home side back, they struggled to create any clear-cut chances.
Seven out of their 10 efforts on goal before half-time came from outside the area and their clearest sight of goal was a Soldado header from an Aaron Lennon cross, which flew a long way wide.
Opening Everton up was never Villas-Boas's intention, though. You can tell that because he started with his most creative players - Christian Eriksen and Gylfi Sigurdsson - on the bench.

Villas-Boas picked Holtby instead of Sigurdsson in that attacking midfield trio because of his defensive qualities - he is much more of a "ratter" when it comes to chasing the ball.
Holtby was hassling Leighton Baines and the other Everton defenders and stopping them from building anything from the back. That was Villas-Boas's main aim.
From that point of view, his tactics worked - again. Everton improved after the break and had more possession (52% to 48%) by the end but they created little and Spurs have now conceded only one goal in five away league games.
But that comes at a cost. Tottenham have only scored four times in those five matches, which can at least partly be put down to the way they are set up.
Soldado feeding on scraps as Spurs striker
It is no wonder Soldado has got only one goal from open play in the Premier League this season.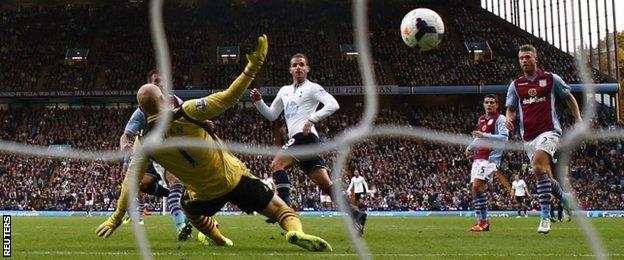 I felt sorry for the Spanish striker on Sunday because he got such poor service.
Tottenham have managed more dribbles than any other team in the league this season (150) and their wide men saw plenty of the ball at Goodison Park.
That did not help Soldado much, because Townsend and Lennon kept cutting inside to shoot rather than trying to cross. At times he looked isolated, waiting in the middle for a ball that never came.
At Valencia last season, he also played on his own up front so he can operate as a lone striker - and he scored 24 goals in 35 La Liga games.
But all of those goals came from inside the box and only four were headers. More often than not they came from low crosses or pull-backs from the bye-line, and Tottenham are just not creating those kind of chances for him.
Apart from that header he missed against Everton, Soldado only touched the ball on one other occasion in the Toffees area, and his only other effort on goal saw him blast over from the edge of the box.
Despite Tottenham's territorial advantage in the first half, he touched the ball fewer times (17) than any of their outfield players.
And he finished the game with fewer touches (36) than any of the 14 outfield players from either team to play the entire 90 minutes.
That in itself is not an issue - Soldado only made an average of 30.9 touches in each of his 35 La Liga games last season.
What is a problem for Villas-Boas is whether he is getting the best out of his £26m striker when he does touch the ball.
After 10 games, we know Soldado can take a good penalty - he has scored three of them - but it is very difficult to judge him otherwise because of how little Spurs are creating for him.
Spurs have made solid start - but need more goals
Ten games in, Tottenham are level on points with the team in second place in the table. Defensively, they are very effective, and they are also very good at keeping the ball.
Only Southampton (four) have conceded fewer goals than Tottenham (five), and only Manchester City have faced fewer shots (91 to Spurs' 95) or had more possession on average in each game (60.4% to 58.65%)
| | Tottenham | Rank in Premier League |
| --- | --- | --- |
| Total passes | 5,001 | 6th |
| Passing accuracy | 83.3% | 7th |
| Average possession | 58.65 | 2nd |
| Shots for | 133 | 1st |
| Shots on target | 59 | 3rd |
| Shots to goals | 6.77% | 20th |
| Goals scored | 9 | 12th |
| Cross/corner accuracy | 18.75% | 17th |
| Shots against | 95 | 2nd |
| Goals conceded | 5 | 2nd |
They have a fantastic keeper in Hugo Lloris, who patrols the edge of his box and helps their centre-backs keep a high line. In front of them, Sandro is very efficient at shutting the ball down quickly.
It is further forward where their problems lie. They have had more shots (133) than any other team, but have the lowest goals-to-shot ratio in the top flight, just 6.77%.
Is that Soldado's fault? No. The people who have been calling for Jermain Defoe to be recalled up front in place of him are missing the point.
What Spurs need to do is create more good chances for whoever their striker is. To do that, they need Eriksen in their team.
Tottenham do have creative players to match their rivals. But they do not use them in the same way their rivals do.