Yaya Toure: CSKA Moscow punished for racist chants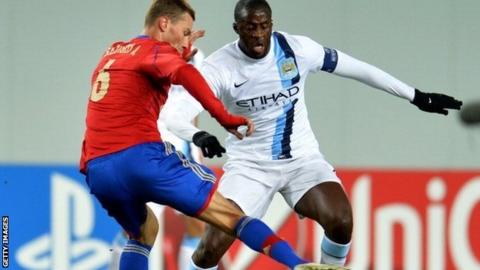 Uefa has ordered the partial closure of CSKA Moscow's stadium during the club's next Champions League tie following racist chanting directed at Manchester City's Yaya Toure.
The Russian club was charged after Toure complained about the chanting during City's 2-1 win on 23 October.
One of the single-tiered ends of Arena Khimki will be closed when CSKA host Bayern Munich on 27 November.
CSKA had denied Toure's claims he had been racially abused.
But European football's governing body charged the club following a hearing in Switzerland by its control and disciplinary body.
A statement read: "The fight against racism is a high priority for Uefa.
"The European governing body has a zero-tolerance policy towards racism and discrimination on the pitch and in the stands."
Piara Power, executive director of Football Against Racism in Europe (Fare), told BBC Sport: "In general terms, we welcome the action taken by Uefa. We would have wanted a full stadium ban, but in the end we understand that the evidence for the offence was difficult to find to do that.
"Given the fact that Yaya Toure was clearly very upset and did everything one could ask of him, a full stadium ban would have sent out a stronger message, but in the end we have to abide by the legal process."
In May, Uefa announced that in the case of racist incidents involving spectators, a partial stadium closure would be applied for the first offence and a full stadium closure for a second, coupled with a fine of 50,000 euros (£42,800).
City midfielder Toure, 30, said he was "furious" after he was targeted by the home supporters in the 18,636-capacity stadium, and reported the chants to Romanian referee Ovidiu Hategan during the game and afterwards.
Hategan has been absolved of blame after the referee was accused of not following the correct procedure and reporting Toure's complaint to the stadium's safety officer.
Under guidelines issued in 2009, a public announcement would then have been made warning fans to desist.
But a Uefa spokesman told BBC Sport that the referee had told the fourth official who, in turn, informed the venue director.
The venue director has now been relieved of his duties after he failed to read an announcement to the spectators.
Following the match, Toure went on to suggest black players might boycott the 2018 World Cup in Russia unless the country tackles racism in football.
"If we aren't confident at the World Cup, coming to Russia, we don't come," the midfielder said.
Before the hearing, CSKA said they were "surprised and disappointed" by the Ivory Coast international's claim.
The Russians, who visit Manchester City in their next Champions League match on 5 November, have the right to appeal against Uefa's sanction.