Roy Hodgson: Football Association backs England manager
Last updated on .From the section Football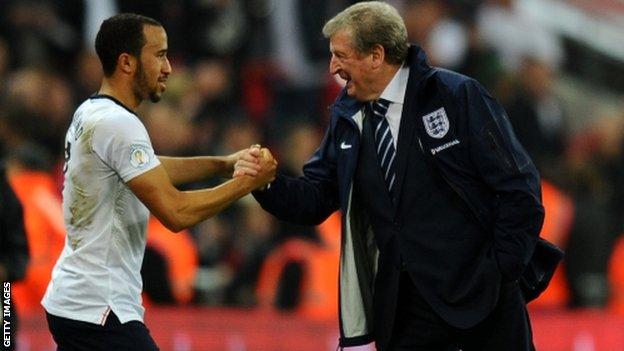 The Football Association has given its "full support" to Roy Hodgson after claims a comment made in a team-talk by the England manager caused offence.
"He has and deserves the full support of the Football Association," FA chairman Greg Dyke said.
Anti-racism campaigners Kick It Out praised the FA's "swift" response.
It had called for an investigation into Hodgson's comments but, after the FA confirmed it had not received any complaints from the England players, it now considered the matter closed.
A Kick It Out statement read: "We are pleased that the Football Association has investigated this matter swiftly and issued its findings immediately.
"If there has been no complaint on the back of the investigation then the matter can only be deemed as concluded.
"Kick It Out acts on behalf of the football community at large and when an allegation of a racist or discriminatory nature is made, it's the organisation's role to follow this up."
Hodgson was reported to have referenced the joke when trying to explain to right-back Chris Smalling that he needed to pass the ball to winger Andros Townsend more.
The joke, the exact wording of which is still unclear, revolves around an astronaut and a monkey on a Nasa mission. The monkey performs all the tasks requested by mission control, with the punchline being that the astronaut's only role is to feed the monkey.
The England manager later apologised and Townsend, 22, tweeted: "I don't know what all this fuss is about. No offence was meant and none was taken!"
Dyke added: "Roy Hodgson is a man of the highest integrity, an honourable man who is doing a great job with the England team.
"He has fully explained to us what he said and the point he was making to the players in the dressing room at half-time on Tuesday night. He has also explained the context in which he made his remarks.
"He has made clear there was no intent to say anything inappropriate, and he was certainly not making any comments with any racist connotation. Importantly, he has apologised for any unintended offence that may have been taken.
"We will be making no further comment on this story and will now be giving Roy and the team our full support as we prepare for the World Cup in Brazil."
England striker Wayne Rooney also showed his support for 66-year-old Hodgson on Twitter, and via his personal website: "To be honest it's really annoying that something such as this should see the light of day.
"All the lads know what type of guy Roy is, and to try and pin some form of label on him is absolutely ridiculous. Roy spoke to Andros straight away, and he took no offence whatsoever. Hopefully that's now the end of the matter."
Former England striker Stan Collymore, 42, also defended the former Fulham and West Brom boss on Twitter, suggesting the row undermines moves to eradicate racism from the sport.
"Demeans every anti-racism campaigner by having cheap pop at RH [Roy Hodgson] who said nothing wrong. Makes campaigners seem over-PC and petty. They're not," he said.
However, Piara Powar, executive director of Football Against Racism in Europe (Fare), told the BBC that Hodgson had got it wrong.
"This was a silly phrase to use in a diverse workforce," said Powar.
"I think some players will see it as a reflection of the type of language still used by some coaches and some attitudes that still prevail."