Hinckley United wound up over debts of more than £200,000
Last updated on .From the section Football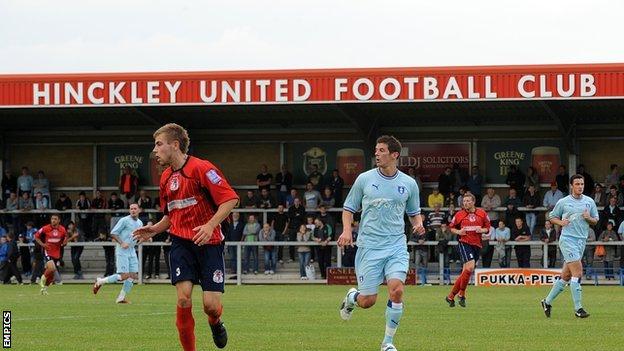 Hinckley United Football Club has been wound up by the High Court over debts of more than £200,000.
The insolvency petition was lodged by former club chairman Kevin Downes as trustee of a pension fund.
Directors from the Southern League Premier Division club attended the hearing at Birmingham on Monday, but did not oppose the winding-up petition.
Leicestershire Police are investigating business irregularities at the club following complaints from shareholders.
"Officers were contacted on Tuesday 24 September, 2013 regarding the business based in Hinckley. Enquiries are in their very early stages, therefore we are unable to confirm any further details at this stage," a police spokeswoman said.
The High Court case had been adjourned for two weeks last month after Downes asked for the club's current board to be allowed more time to search for new investors.
Hinckley lost their final match 3-0 to Chesham on Saturday.
A statement on the club website said: "The board would like to thank its supporters, sponsors and shareholders for their support in these sad and difficult times."
Hinckley captain Jarrad Pickering said he only learned of the club's fate from fans on Twitter and fears what impact the winding-up order will have on its employees.
"It's disappointing to find out on the internet, rather than being told first hand," Pickering told BBC Radio Leicester.
"We are due to be paid next on 18 October, but I'm not sure how that works when you don't have a club to pay you?
"We've been told we will be paid - but I'm not holding my breath."
The Knitters had been playing in the seventh tier of English football after being relegated from Conference North last season at the end of a difficult campaign on and off the field.
Last season the club were deducted three points for failing to pay five players' wages and forced to postpone a match as they struggled to field a team.
Former Bolton Wanderers and Brighton defender Stuart Storer, who first played for the club in 2001 and later worked as first-team coach, was named Hinckley manager in May following Carl Heggs's departure.