Windsor Park stadium work set to begin in new year - Shaw
Last updated on .From the section Football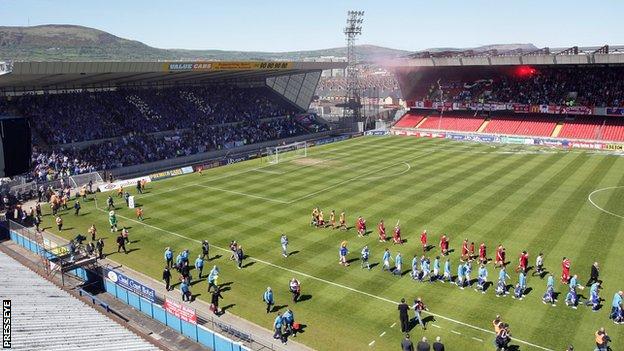 IFA president Jim Shaw has told the BBC he is confident that work on the new Windsor Park stadium will begin in the new year without any future delays.
Previous soundings from the IFA had indicated that the multi million pound revamp of the stadium was due to start in September 2013.
But it is understood that tenders for the £25 million redevelopment project have been over budget.
The IFA has refused to comment on the specifics of the tendering process.
"We are still on schedule, I personally don't envisage any future delays," said Shaw, who added that the tendering process is "at a well advanced stage".
"We will end up with that which suits us in terms of financial implications," added the IFA president.
Should any delays or complications arise an interim ven ue would be required to host international matches but Ravenhill rugby ground has been ruled out as an option.
"That is not even being considered," said the IFA president.
Sports Minister Caral Ni Chuilin last week said that she remains "committed" to making sure that the redevelopment of Windsor Park goes ahead as scheduled.
Earlier this month, the minister indicated that "governance" issues at the Irish FA could delay the planned funding for the project.
These centred on David Martin's return to the role of IFA deputy president.
However, the minister has emphasised that she is "confident" the governance issues will be resolved.
The stadium redevelopment work will see two new stands at Windsor Park, plus the refurbishment of two others increasing the capacity from 12,000 to 18,000.