Brazilian football: Cluttered club calendar causing conflict
Last updated on .From the section Football131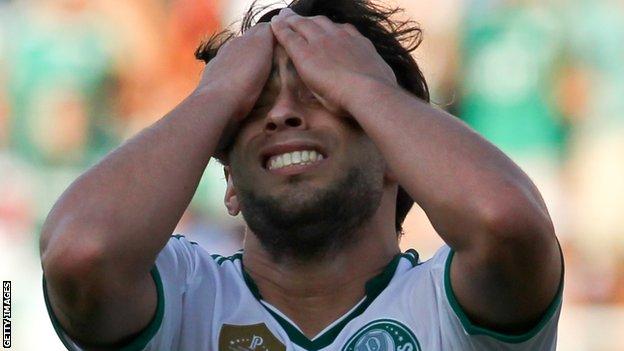 There has been an abrupt change of tone in the international media's coverage of Brazil.
Not too long ago the country was being held up as a shining example. Suddenly, though, it is all doom and gloom at the end of the boom.
Much of this is the hysteria of journalistic excess, and the old game of building them up to pull them back down again. Neither extreme is fully justified.
There is, however, a fascinating battle going on between change and its opposite - one which, with its extraordinary capacity to get right to the heart of a society, football helps illustrate.
The mid-year protests were frequently focused on anger at government spending on the Fifa Confederations Cup and Fifa World Cup.
On the one hand were familiar problems of the Brazilian state - its high-handed arrogance and blatant cynicism (with the lack of real debate about the objectives of the World Cup, and the argument that the majority of spending on stadiums would come from private sources), its flawed delivery (fine stadiums but inadequate transport and public services) and the impression that it is moved by short-term selfish factors rather than sustainable social good.
On the other was the reaction of the people, taking to the streets in their millions, as unexpected as it was inspiring.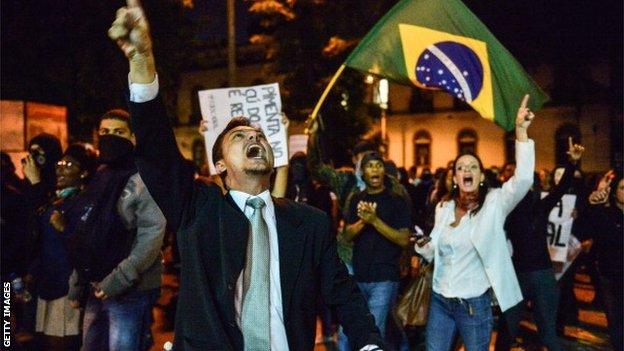 The notion Brazilians had of their own passivity was challenged - mainly by a new generation who have seen considerable change in their short lifetimes, are well aware that change is possible, and want more of it - and quickly. The doubt in the dynamic is whether this spontaneous manifestation of indignation can be channelled into an organised political force.
Conflict between these same forces is now flaring up inside the Brazilian game. The battleground - where the old oligarchy meets the new protest - is control of the calendar; the way the domestic season is set up.
Brazil's big clubs count their supporters in tens of millions. But they are not key players in the organisation of the local game. Power in the CBF, Brazil's FA, is in the hands of the presidents of the federations of the 27 states which make up this giant country.
These presidents base their power on the votes of the many tiny clubs - some so small they barely have supporters - and others in the hands of agents. The revenue, prestige and relevance of the state federations come from their local tournaments, where the giant teams are obliged to play endless games against little clubs.
These State Championships take place in the first few months of the year. They are dying on their feet, and they also have a wholly negative influence on the rest of the season. They clutter up the calendar, force the big clubs into an excess of meaningless matches, kill off the start of the Brazilian Championship and throw the country out of sync with the rest of the world.
In a normal year their existence means there is no time for a proper pre-season. It is as if five litres were being poured into a three-litre bottle. And the situation is even worse this year and next, with an obligatory pause for international tournaments. The bottle is even smaller.
There was a break for a month during the Confederations Cup. Those games have to be made up. There have been 16 rounds of the Brazilian Championship in the last two months. Players are injured and exhausted.
Next year, with a longer pause for the World Cup, the situation is even more serious. The CBF recently announced the calendar, with the State Championships starting earlier than usual on 12 January. This would mean a pre-season - the time between the players returning from holiday and the first competitive match - of just four days.
It has provoked a reaction. Brazil's players have never been known for their militancy. But now 75 of them, including some big names, have signed a manifesto calling for a rethink of the calendar.
The solution is obvious enough - the end of the State Championships in their current format (they need not necessarily be scrapped - the small teams can play each other in a league basis for a few months, for example, with the winners qualifying for the second phase, with the big clubs, played as a midweek cup competition).
But opposing the State Championships means opposing the power structure, and herein lies the problem. One leading player, for example, will only declare himself against the State Championships off the record.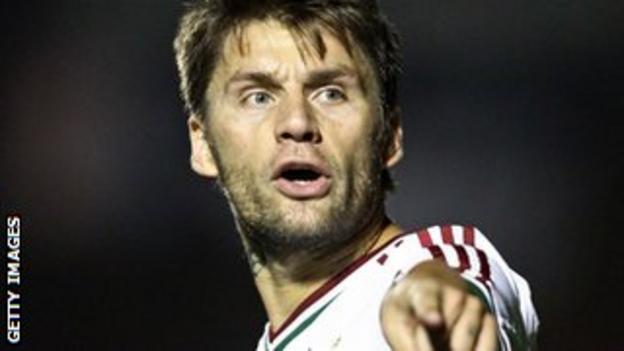 Another, Fluminense striker Rafael Sobis, was asked this week is he is in favour of the end of these competitions. "I don't know," he responded. "If they have to happen, I'll play knowing the importance of the competition. But I don't know if I'll be able to play to the best of my ability."
However, one club has shown no fear of taking a clear position. Atletico Paranaense refused to let their first team take part in their local State Championship, dismissed as "a con" by club president Mario Celso Petraglia. The team are reaping the benefit. With more gas in the tank than their rivals, they are playing an excellent Brazilian Championship, confounding expectations that they would be relegation candidates.
"The State competitions have been money losers for years," said Petraglia. "You pay to play and place your entire year's work at risk. And winning them doesn't represent anything. We are against what is past and obsolete."
It is an important voice of a new Brazil trying to emerge from the limitations of the old.
Send your questions on South American football to vickerycolumn@hotmail.com and I'll pick out a couple for next week.
From last week's postbag;
I remember a couple of years ago you wrote an article on the young Peruvian striker called Andy Polo who played for Universitario. Nearly two years later he is playing for San Martin, a smaller Peruvian side, and has only scored one goal this season. I heard he was going to Europe to Genoa but it seems it hasn't materialised. Do you know why he moved to San Martin and why he isn't scoring or being talked about as much anymore?
Theo Manji
I think there were a few holes in his game! I'm not sure he was well handled at Universitario, where, in an attempt to take advantage of his physical capacity, he was switched to a midfield role, and he lost his way and was overtaken by a promising generation of youngsters.
The move to Italy would have been way too soon. At least he has a chance of getting a game with San Martin - he scored again at the weekend. But that leap from unknown to a first-team player with a major club - it's huge. I can't think of any other walk of life that contains such a huge step up, and it's hardly a surprise that some people find it hard to cope with.
I wanted to ask you your thoughts regarding Robinho and his current state at AC Milan. Having recently seen him play against Sampdoria, the man seems unable to do anything right on the field. He missed a tap-in which was about half a meter from goal, and the rest of his match was a collection of tired attempts to get around defenders and being muscled off the ball far too often.
Not only does he physically look extremely fatigued, but it seems like for the past while he hasn't been quite as well off mentally/emotionally either. Do you have any insight into what problems he could be having in Italy? Is he lacking that encouraging father figure, a role Massimiliano Allegri doesn't fill?
Niccolo
Possibly, but while I have no insight into internal relations at Milan I would guess that the problem goes a bit deeper.
You have to remember that eight or nine years ago Robinho was being told by qualified judges (I recall one former World Cup player in particular) that he was going to be better than Diego Maradona, more outstanding than anyone who ever played the game bar Pele. Imagine being 21 and listening to that!
His whole time in Europe has been one long reality check. He has had his moments. But never, anywhere, has he consistently been the key player in his side - his problems at Real Madrid began when it became clear they were willing to trade him to get Cristiano Ronaldo. So I suspect that what you are watching is a reaction to his own disappointment.