James Wallace: Tranmere captain feared he might not play again
Last updated on .From the section Football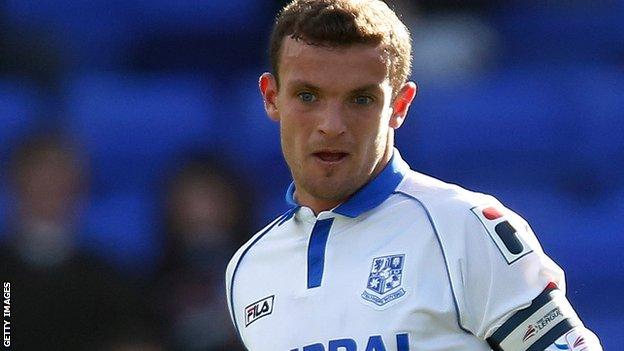 Tranmere captain James Wallace has admitted he thought he might never play again after a series of setbacks in his battle to return from a knee injury.
His last match was in December 2012 and he still does not have a comeback date.
"There were [doubts] in my head but the people around me didn't think that," Wallace told BBC Radio Merseyside.
"When you're getting setback after setback, there were times where I was very negative and I thought it wasn't going to get any better."
The continued: "This has been the hardest time of my career. I've never had this problem before with an injury for this long.
"It's been tough on me, and luckily I've had good people around me supporting me and keeping my head up. I thank them a lot for what they've done for me."
The 21-year-old's injury, suffered in an FA Cup tie against Chesterfield, came at a time when Tranmere were in League One promotion contention.
It was initially thought that he would be but
Wallace has been told by specialists that his knee is healing well, but it could be another two months before he is able to return.
Ronnie Moore's side have struggled without their absent captain and were 19th in the table ahead of Saturday's home game against Port Vale.
Wallace added: "When you're sitting in the stand, you're always thinking you could be out there doing well and better than what's out there.
"I'm always in the changing rooms giving the lads advice and encouragement. It's all about getting out on that pitch as soon as I can."