Qatar 'must respect World Cup 2022 workers'
Last updated on .From the section Football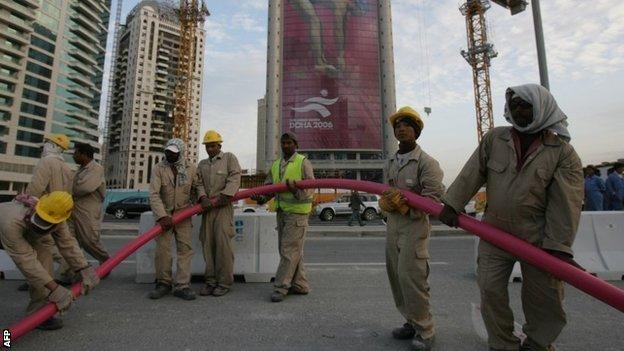 Qatar must protect the rights of the workers who are to deliver the 2022 World Cup, says the world professional footballers' association Fifpro.
The Guardian report likened workers' conditions to "modern-day slavery".
"If these reports are true, then football must act," said Fifpro board member Brendan Schwab.
FIFPro has called on the international football community "to act with solidarity" over the issue and help to ensure action is taken.
"It is inexcusable for workers' lives to be sacrificed, especially given modern health and safety practices in the construction industry," said Schwab.
The Guardian investigation claimed:
At least 44 workers died between 4 June and 8 August because of heart-related issues or workplace accidents

That there is some evidence of forced labour on a major World Cup infrastructure project

Nepalese men have not been paid for months, with salaries retained and passports confiscated to limit their movements

Access to free drinking water on construction sites has been denied on some occasions
Qatari officials are adamant that working conditions will be suitable for those involved in construction of World Cup facilities.
In a statement they said: "We firmly believe that all workers engaged on our projects, and those of the other infrastructure developers in Qatar, have a right to be treated in a manner that ensures at all times their wellbeing, safety, security, and dignity."
Fifpro represents more than 50,000 professional footballers and collaborates with the Uni Global Union, the voice of 20 million service sector workers around the world.