Guernsey FC boss Tony Vance relishing Dover FA Cup tie
Last updated on .From the section Football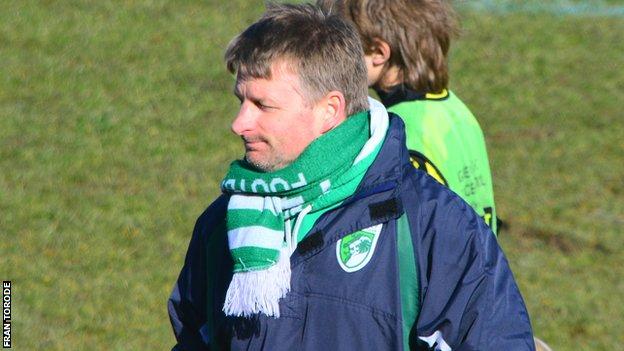 Guernsey FC boss Tony Vance is relishing his side's FA Cup tie against Dover despite the game being moved to Lancing.
"I'm looking forward to it, it's a huge test and challenge," Vance told BBC Guernsey.
"The venue change is disappointing, the players like to be at home, but playing away is an enjoyable experience.
"We have an excellent following in the UK. It's probably more disappointing for the general public."
Guernsey had hoped to rearrange the match because of a fixture clash with Guernsey RFC, but Dover refused.
"It's important now to focus," Vance added.
"It's very easy for people to say that tension levels have risen somewhat, but it's just a game of football and both teams need to ensure that is the case.
"We are playing away that's the simple fact of it. Obviously it is classified as a home game but hopefully the mainland support we get can spur us on.
"Dover are going to have a huge pedigree, huge experience with lots of professionals and ex-professionals in their ranks. so it is a bit of a David and Goliath but it's not something that we are fearful of.
"The league has always been our priority, certainly from the coaching side of things.
"The players may see that differently, but for me if we can get a victory and be unscathed I'll be delighted. but more importantly we need to continue with our league campaign."
Guernsey go into Saturday's tie on the back of beating Chipstead 1-0 in the Ryman League on Wednesday.
Ross Allen got the only goal in the second half, as well as missing a penalty.
Guernsey have now notched six straight wins in all competitions.