Darren Caskey named Gateshead assistant by manager Gary Mills
Last updated on .From the section Gateshead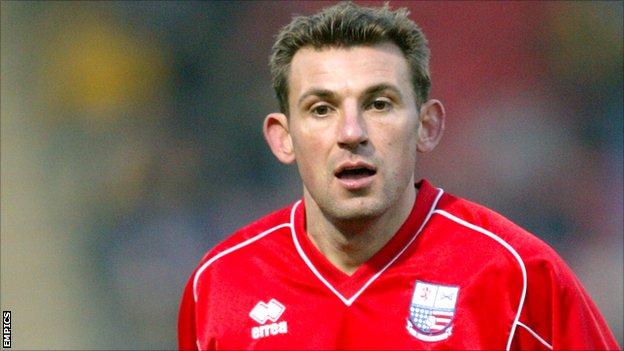 Gateshead manager Gary Mills has named former Tottenham, Reading and Notts County midfielder Darren Caskey as his assistant, with David Rush making way.
Mills inherited Rush from former boss Anth Smith, but has opted to bring in Caskey, a player he managed while in charge at Meadow Lane.
The 39-year-old was part of the Ilkeston coaching team alongside former Northern Ireland striker Kevin Wilson.
"I am looking forward to a good partnership with Darren," Mills said.
"He is someone I have known for a long time. He prepares his teams like I do and we are on the same wave length."
He continued: "Darren has a strong background in both Football League and non-league circles, has a wealth of experience and is a bubbly character.
Mills was a senior professional at Notts County when Rush was a youngster, but admitted there was no room for sentiment.
"Rushy is a genuine and honest man which made it harder to break the news to him, but he understands these things happen in football and took it well," he added.
"It is important that I have the right backroom staff. I am here to make tough decisions and I believe this one is right for me and for Gateshead."
Prior to retiring, Caskey made more than 400 appearances in all competitions at professional level, scoring 63 goals.