Steve Bruce: Early League Cup ties 'like watching paint dry'
Last updated on .From the section Football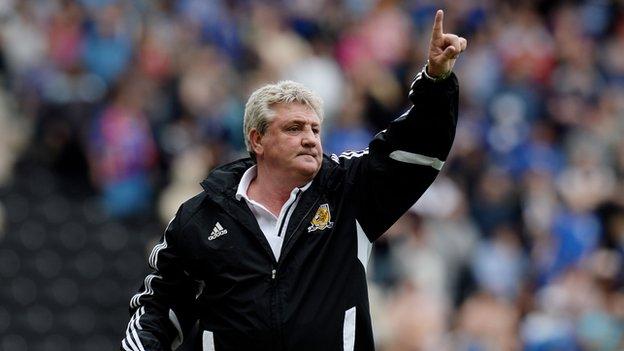 Hull boss Steve Bruce claims the early rounds of the Capital One Cup have become more like friendly matches.
Premier League Hull made nine changes for the match at the KC Stadium while Championship side Huddersfield made 10.
"There was no real cohesion, there was no real tempo to it because of what it was. It was more like a friendly than a cup tie," Bruce said.
"But that's what the early rounds of the cup have turned into now. It's a shame but there you have it. It was a comfortable evening for us but it was like watching paint dry.
"I think both managers have just thrown 11 players together and said 'get on with it' and that's no disrespect to the lads who were out there.
"It was a drab cup tie and I think a lot of the fans that were here tonight will wish they'd stayed in and watched Coronation Street."
Huddersfield counterpart Mark Robins says the weakened team he selected for the match simply reflected where the League Cup is on his list of priorities.
"I wanted to go through, but needs must. It is no disrespect to the Cup, it's a necessity. Our priority is staying in the Championship," Robins said.
It was a similar story elsewhere as much-changed teams played out in front of stadiums that were short of capacity.
Manchester City pulled in the highest crowd of the fixtures played on Tuesday with 25,519 for their 5-0 thrashing of Wigan.
Although that was just over half of the figure of 47,156 who were present at the Etihad Stadium just two days earlier and watched City's 4-1 win over Manchester United.
Burnley only opened certain sections of their ground to save money as 6,405 fans turned up to watch them secure a 2-1 victory over Nottingham Forest at 22,546-capacity Turf Moor.
Forest boss Billy Davies made 11 changes to his team from the side that drew 2-2 with Doncaster in the Championship in their previous match.
However, Swindon boss Mark Cooper said before their sold-out 2-0 defeat against Chelsea at the County Ground, screened live on television, that the competition can provide moments for supporters to savour and a boost to club finances.
"For our fans to be watching a team of internationals, it's going to be a fantastic occasion, in front of a full house and we'll earn plenty of money out of it," Cooper said.